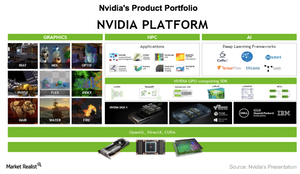 A Look inside NVIDIA's Platform Strategy
NVIDIA leverages platform and API
NVIDIA (NVDA) is at its inflection point, as the adoption of GPU[1.graphics processing unit]-accelerated computing has started to gain ground with the emergence of AI (artificial intelligence), autonomous cars, and cloud computing.
The company leverages a single platform across various domains, which helps it reduce its hardware costs. It also leverages its API (application processing interface), CUDA, across various domains, facilitating compatibility. The company makes CUDA compatible with a range of applications, including Adobe (ADBE), Autodesk (ADSK), and other design, media, and entertainment applications. Moreover, every version of CUDA is compatible with its previous versions.
NVIDIA GPUs can run with all versions of CUDA, giving it the flexibility to use various permutations of hardware and software, and creating a strong foundation for the company.
Article continues below advertisement
Article continues below advertisement
NVIDIA's end-to-end GPU computing solutions
NVIDIA's core team handles the foundation layer, which comprises automotive, gaming, and data center verticals. The company deploys different developer teams for each vertical. They work with application providers in each domain to build domain-specific SDKs (software development kits).
At NVIDIA's 2017 Investor Day, CEO Jensen Huang stated that the company does not plan to develop generic networks with horizontal applications, such as a voice recognition networks or a computer vision networks. Such networks are already being developed by Google (GOOG).
Instead, NVIDIA is looking to develop domain-specific networks, such as medical imaging networks, and make them available on the cloud for others to download. It provides companies with a pre-trained network that is 98% smart, significantly reducing a company's software development efforts. The companies only have to train this network on the remaining 2% that is specific to their application.
Article continues below advertisement
How does NVIDIA earn money?
Designated software for each vertical and domain has increased NVIDIA's software cost fourfold in the last ten years. The company now spends more on software than hardware.
NVIDIA monetizes its efforts in software development by including its cost in the price of its cartridge. A Tesla cartridge or a DGX cartridge carries a premium price because of the software ecosystem NVIDIA has developed around it.
As NVIDIA spends a lot on developing a domain-specific ecosystem, it mainly targets large domains that present billions of dollars in opportunities. The gaming space is a $100 billion opportunity, and the autonomous car, healthcare, and manufacturing spaces are billion-dollar opportunities. Next, we'll look at NVIDIA's next-generation core architecture, Volta.