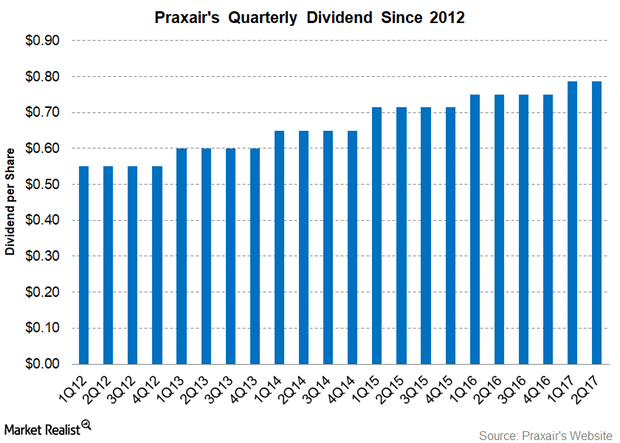 Will Praxair's 2Q17 Dividend Inspire Investors?
Praxair's 2Q17 dividend
On April 27, 2017, Praxair (PX) announced a dividend of ~$0.79 per share for 2Q17 on the company's outstanding common stock. The dividend will be payable on June 15 to shareholders of record date of June 7, 2017. By comparison, peer Air Products and Chemical (APD) paid a dividend of $0.95 per share in 2Q17.
Article continues below advertisement
Dividend growth
Praxair has raised its annual dividend for 24 consecutive years, and PX's 2Q17 dividend implies a growth of 5% YoY (year-over-year). If the company's dividend is maintained for the rest of 2017, its annual dividend for 2017 is projected to be $3.15 per share. Since 2012, Praxair's dividend has grown at a CAGR (compound annual growth rate) of 8.1%.
Free cash flow and dividend growth
Remember, it's crucial for investors to know whether a company is generating enough free cash flow to sustain dividend growth because dividends are usually paid out of free cash flows. For this analysis, we'll look at the free cash flow generated by Praxair and convert it into free cash flow per share.
Since 2012, PX's free cash flow per share has grown at a CAGR of 22.9% at of the end of 2016, which is higher than PX's dividend growth of 8.1% during the same period. This is a clear indication that Praxair's free cash flows should be able to support its dividend growth—a good sign for both investors and Praxair.
Investors can gain exposure to Praxair by investing in the Vanguard Materials ETF (VAW), which has 4.6% of its total portfolio in Praxair. The fund's holdings include Dow Chemical (DOW), DuPont (DD), and Monsanto (MON), which had weights of 8.3%, 8.2%, and 6.2%, respectively, on May 26, 2017.
In the next part, we'll look into Praxair's dividend payout and the current dividend yield.