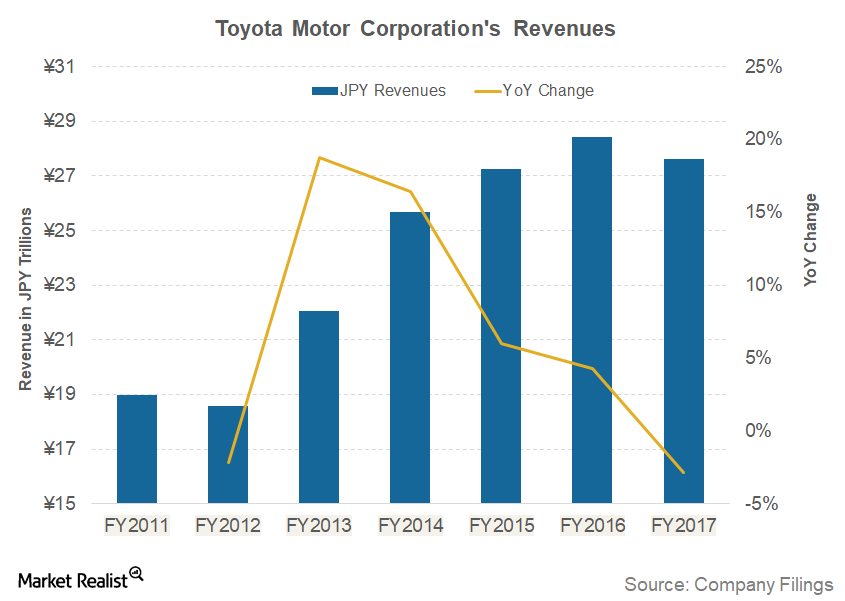 Why Toyota's Fiscal 2017 Revenues Fell
Toyota Motor Corporation
In the calendar year 2016, Toyota (TM) stood as the second-largest automaker by volume in the world after Volkswagen (VLKAY). In fiscal 2017 (April 1, 2016, to March 31, 2017), the company's consolidated vehicle sales stood at 9.0 million units, 3.3% higher than the 8.7 million units sold in fiscal 2016. Now, let's find out how Toyota's revenues shaped up in fiscal 2017.
Article continues below advertisement
Toyota's 2017 revenues
Despite an increase in its vehicle sales, the company reported a marginal drop of 2.8% in its fiscal 2017 revenues, which stood at 27.6 trillion Japanese yen. Previously, Toyota reported net revenues of 28.4 trillion yen in fiscal 2016. Unfavorable currency movement during the fiscal year was one of the primary reasons for this drop in Toyota's revenues.
In US dollar terms, Toyota's revenues fell to $236.6 billion in fiscal 2017, 5% lower from $247.8 billion in the previous fiscal year. Being a Japanese automaker, Toyota reports its earnings in Japanese yen. Therefore, investors should primarily pay attention to the company's financial figures in Japanese yen terms to get a clearer picture of existing trends in its financials figures.
During fiscal 2017, the Japanese yen witnessed strength against a basket of currencies including the US dollar. As a result, Japanese automakers (FPX) such as Toyota and Honda (HMC) were affected. In contrast, overseas revenues of European automakers including Volkswagen and Fiat Chrysler (FCAU) rose due to a weak euro against the US dollar.
Higher revenues from Japan
In fiscal 2017, Toyota's revenues from the Japanese market stood at 14.8 trillion yen, 0.5% higher than the previous fiscal year. During the fiscal year ended March 2017, the company sold 2.3 million vehicle units in its home market. This reflected a year-over-year increase of about 10.7% in consolidated vehicle sales in Japan. The lower growth rate of Toyota's retail sales in Japan affected the revenues from its home market.
Continue to the next part to know how Toyota's revenues from North America shaped up in fiscal 2017.