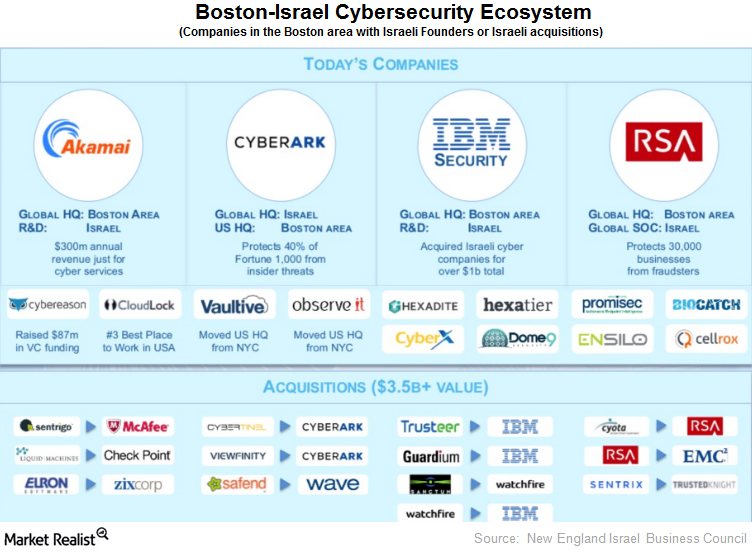 Why Microsoft Is Looking to Israel to Beef Up Its Cybersecurity Efforts
Hexadite is Microsoft's fourth acquisition in security space
Previously in this series, we discussed Microsoft's (MSFT) recent acquisition of cybersecurity firm Hexadite. The Hexadite deal is Microsoft's fourth acquisition in the cloud security space.
In January 2017, Microsoft invested in Team8, an Israel-based cybersecurity firm. Qualcomm (QCOM), Cisco Systems (CSCO), AT&T, Accenture (ACN), Nokia, and Bessemer Venture Partners were other investors in Team8.
Article continues below advertisement
Microsoft's other acquisitions
In 2015, Microsoft acquired Israel-based cybersecurity firms Adallom and Secure Islands for approximately $320 million and $80 million, respectively. In late 2014, Microsoft acquired Aorata, a hybrid cloud security startup.
At the end of April 2017, Calcalist reported that Microsoft is in talks to acquire Cloudyn, another Israeli cybersecurity startup. However, there is no confirmation of the announcement of this acquisition either by Microsoft or Cloudyn.
Israel (ISL) (EIS) seems to be on Microsoft's radar for investment in the cybersecurity space. Microsoft has three R&D centers in the country.
Israel's impressive footprint in cybersecurity space
The global cybersecurity market is estimated to grow at a CAGR[1. compound annual growth rate] of ~4.5% from $11.9 billion in 2016 to $18.5 billion by 2026. According to CNBC, Israeli cybersecurity firms own ~10% of the global $11.9 billion cybersecurity market.
Israel is home to almost 300 cybersecurity companies. Check Point Software (CHKP) and CyberArk (CYBR) are among the well-established cybersecurity companies with roots in Israel. Tax breaks and the Israeli government's funding have provided a fertile environment for startups to grow.
Investment in Israeli cybersecurity companies rose 23% from $560 million in 2015 to $689 million in 2016, according to investment firm YL Ventures.
Microsoft is interested in the cybersecurity space abd seems to find Israel an attractive source of investment.