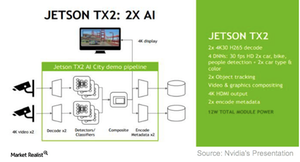 What Will Drive NVIDIA's Professional Visualization Segment?
By Puja Tayal

Updated
Professional Visualization
NVIDIA (NVDA) is developing products to support AI (artificial intelligence) adoption in the data center, embedded devices, and automotive spaces. The next big growth trend after AI is VR (virtual reality).
VR is gaining momentum everywhere, from gaming to healthcare to construction to the military. As the world moves toward VR technology, there's an increasing need for VR content. TechNavio expects the VR content market to grow at a CAGR (compound annual growth rate) of 128% to $13 billion by 2020.
Article continues below advertisement
In 2015, $221 million worth of VR content was created, of which 43% was on PCs (personal computer), according to TechNavio. If 40% of VR content continues to be created on PCs, TechNavio expects PCs to generate over $5 billion worth of VR content by 2020. Such volume would increase the demand for professional-grade graphics cards used to create VR content. NVIDIA develops professional-grade GPUs under its Quadro platform.
Professional Visualization earnings trend
The ProV (Professional Visualization) segment is NVIDIA's slowest-growing segment. In fiscal 4Q17, the segment's revenue rose 11% year-over-year to a record $225 million, contributing 10.3% toward the company's total revenue. Its revenue was driven by increasing demand for high-end mobile workstations that offer real-time rendering capabilities.
This slow growth saw the Data Center segment overtake ProV to become NVIDIA's second-largest business segment after Gaming. Such slow growth has come because VR hasn't grown as fast as expected. VR headsets are hefty and have several cables that obstruct user movement. Companies such as Facebook's (FB) Oculus Rift, Advanced Micro Devices (AMD), and Intel (INTC) are developing advanced VR headsets to overcome these hurdles and support the smooth adoption of VR.
Moreover, VR content is not immersive, which means that it doesn't look like real-world content.
NVIDIA's Quadro platform
NVIDIA's new Pascal-based Quadro GP100 GPUs (graphics processing unit) bring new capabilities such as photorealism, fluid simulation, and deep learning to engineers, designers, and artists. NVIDIA claims that its Quadro GP100 and P4000 GPUs are VR ready and capable of creating immersive content.
VR-focused products have accelerated the ProV segment's growth. As VR adoption increases, the demand for VR content could also increase, driving demand for NVIDIA's Quadro products. It's difficult to say when this growth will come.
Next, we'll see how strong earnings and product developments have been impacting NVIDIA's balance sheet.