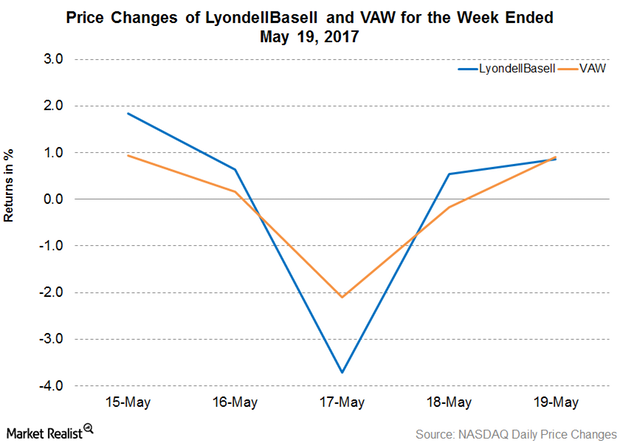 LyondellBasell to Build Hyperzone Polyethylene Plant
LyondellBasell set to expand polyethylene capacity
On May 15, 2017, LyondellBasell Industries (LYB) said it's set to build a polyethylene plant at its La Porte, Texas, facility. The new plant is expected to have a capacity to produce 1.1 billion pounds of HDPE (high-density polyethylene) annually. The new facility will use its proprietary Hyperzone PE (polyethylene) technology. The plant is expected to be operational by 2019.
LyondellBasell's chief executive officer Bob Patel said, "The new Hyperzone PE plant will produce a better plastic that advances solutions to modern challenges, like protecting the purity of water supplies through stronger and more versatile pipes and ensuring the freshness of bulk foods by providing tough, crack-resistant containers for storage. This is truly a global effort developed by an international team, built to serve worldwide markets."
Article continues below advertisement
LyondellBasell stock movement for the week ended May 19
For the week ended May 19, 2017, LYB closed at $81.10, rising 0.10% for the week. The stock was trading 8.8% below its 100-day moving average of $88.89, indicating a downward trend. On a year-to-date basis, LYB has fallen 5.5%. With a 14-day RSI (relative strength index) of 41, LYB is neither overbought nor oversold. An RSI of 70 indicates that a stock is overbought, and a score of 30 suggests that a stock is oversold.
LYB's 52-week low is $69.82, and its 52-week high is $97.64. LYB outperformed the Vanguard Materials ETF (VAW), which fell 0.30% for the week ended May 19, 2017.
VAW has invested 3.5% of its holdings in LyondellBasell. The other top holdings of the fund include Dow Chemical (DOW), DuPont (DD), and Monsanto (MON), with weights of 8.5%, 8.4%, and 6.3%, respectively, as of May 19, 2017.