Kansas City Southern: A Look at Its Intermodal Traffic
Kansas City Southern's intermodal traffic In the past few weeks, Kansas City Southern (Kansas City Southern), the smallest Class I railroad company in the United States, has seen its intermodal traffic slow. In the week ended April 29, 2017, Kansas City Southern reported a YoY (year-over-year) fall of 6.1% in its overall intermodal traffic. Kansas City […]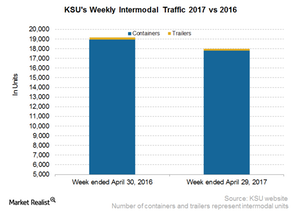 Kansas City Southern's intermodal traffic
In the past few weeks, Kansas City Southern (Kansas City Southern), the smallest Class I railroad company in the United States, has seen its intermodal traffic slow. In the week ended April 29, 2017, Kansas City Southern reported a YoY (year-over-year) fall of 6.1% in its overall intermodal traffic. Kansas City Southern's trailer volumes fell 16%, and the company's container volumes also fell, by 6%.
Article continues below advertisement
Article continues below advertisement
How much does intermodal traffic matter to Kansas City Southern?
Kansas City Southern operates in Mexico through KCSM (Kansas City Southern de México). Kansas City Southern receives nearly 48.0% of its revenue from its Mexican operations. In 2016, KCSM's intermodal traffic accounted for 16.0% of the company's total revenue. In Mexico, the company has the sole concession to serve the busy Port of Lázaro Cárdenas.
However, given President Donald Trump's ongoing talks of constructing a wall on the US-Mexico border, we should pay attention to how Kansas City Southern's business compares with that of other US Class I railroad companies.
Apart from seasonality, intermodal traffic is affected by exclusive access to ports, highway-to-rail conversions, and retail sales. Kansas City Southern's US intermodal business competes with major Western US carriers such as BNSF Railway (BRK-B) and Union Pacific (UNP). In Mexico, KCSM's intermodal competes with Landstar System (LSTR), Trinity Logistics, and ByExpress Logistics.
ETF investments
For exposure to the transportation sector, you can invest in the Guggenheim S&P 500 Equal Weight ETF (RSP). All US-originated Class I railroad companies are part of RSP's portfolio holdings. Continue to the next part of this series for a look at the traffic of Canada's largest freight rail carrier, Canadian National Railway (CNI).