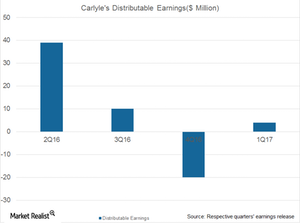 Inside Carlyle's Expected Performance in Real Estate Assets
Positive outlook for European real estate
The real estate market is currently struggling with the riotous forces of technology, urbanization, and demographics. But the market has a positive outlook and is expected to be more rewarding.
Real estate experts have an optimistic view of the industry, backed by a rising number of allocations in core and opportunistic funds by investors. This optimism has resulted in the creation of a wall of capital that needs to be deployed, and surplus capital is Carlyle Group's (CG) central driving activity.
Article continues below advertisement
Fall in distributable earnings
Carlyle has reported declining numbers in its Real Asset segment, however, with its DE (distributable earnings) falling from $20 million in 1Q16 to $4 million in 1Q17, mainly due to realized investment losses of -$8 million in 1Q17. This compares to realized investment income of $2 million in 1Q16 due to losses in its Urbplan program, but this performance is not expected to continue for the rest of 2017.
As of 1Q17, Carlyle's Real Assets segment reported a fall in FRE (fee-related earnings) of $5 million, as compared to $16 million in 1Q16, due to a fall in fee revenues of $9 million and a fall in its catch-up management fees of $4 million. The segment's carry fund portfolio rose 5% in 1Q17.
Acquisition of ENGIE E&P International
CG's Real Assets segment consists of real estate, legacy energy, and natural resources. Notably, backed by funds advised by CG, Neptune Energy Group has entered into an agreement to acquire ENGIE E&P International for $3.9 billion.
Neptune, a group of co-investors, and CVC Capital Partners Fund VI would be acquiring a major share of the buyout. Neptune would acquire the North Sea operations in Norway, which include the Gjoa field in the Netherlands.
Nearly 60 producing oil and gas fields are being operated by EPI. After the acquisition, ENGIE would retain a substantial portion in the large Touat gas development that is currently underway in Algeria, along with Neptune.
Notably, Blackstone (BX), Apollo Global Management (APO), and KKR (KKR) together make up 4.67% of the PowerShares Global Listed Private Equity ETF (PSP).