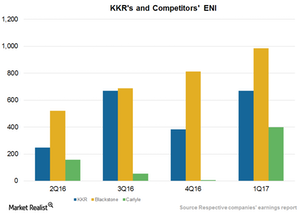 How KKR Is Performing in Relation to Alternative Managers
ENI and Private Market segment
KKR & Co. (KKR) has reported an increase in its economic net income (or ENI) to $668.5 million in 1Q17 compared to $383.2 million in 4Q16. This heavy increase in KKR's ENI was backed by the increase in the total segment revenues and in particular, its Private Market segment.
KKR is planning bring revenues from its private markets and capital markets which would, in turn, generate revenues for fund investors. In 1Q17, KKR generated more than $120 million in transaction fees. KKR is giving a positive outlook for its capital market segment in 2Q17. This outlook is mainly due to its activation status across all geographies, particularly in equity, debt, syndications, and financing activities for the KKR-led investments.
Article continues below advertisement
Closure of private equity funds
In KKR's Americas Fund XII, which is the company's flagship fund for the Americas, and KKR Asian Fund III, which is a flagship fund in the Asia-Pacific region, 1Q17 saw some fundraising.
KKR's major competitors include Blackstone Group (BX) and Apollo Global Management (APO), and both firms have reported increased numbers. Blackstone Group reported an ENI of $986 million in 1Q17. This increase was due to strong fund returns and growth in management fees.
APO has reported an increase in ENI to $270.6 million in 1Q17 compared to a loss of $79.7 million in 1Q16. This rise in ENI occurred due to a $2.5 million increase in management fees. This was backed by higher management fees in ANRP II of $4 million in 1Q17 compared to 1Q16, as a result of capital being raised for the fund after 1Q16.