Applied Global Services Stabilizes Applied Materials' Earnings
Applied Materials' Applied Global Services segment Applied Materials' (AMAT) Semiconductor Systems segment has seen strong growth as chipmakers transition to new material-intensive 3D NAND technology and 10-nm (nanometer) and 8-nm process nodes. The chipmakers may take some time to ramp up new technology and improve yield rates. Applied Materials' AGS (Applied Global Services) team works in sync with […]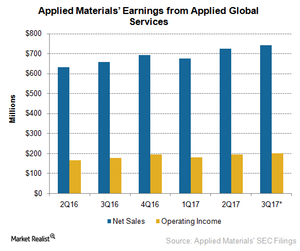 Applied Materials' Applied Global Services segment
Applied Materials' (AMAT) Semiconductor Systems segment has seen strong growth as chipmakers transition to new material-intensive 3D NAND technology and 10-nm (nanometer) and 8-nm process nodes. The chipmakers may take some time to ramp up new technology and improve yield rates.
Applied Materials' AGS (Applied Global Services) team works in sync with the product team to ramp up production of new equipment, improve equipment yield and performance, and optimize output and operating costs. It also provides upgrades, spares, remanufactured earlier-generation equipment, and factory automation software for semiconductors, displays, and other products.
AGS earns revenue after Applied Materials sells equipment. As it is a service, its revenue is stable and recurring.
Article continues below advertisement
Article continues below advertisement
AGS: Fiscal 2Q17 earnings
Applied Materials' AGS revenue rose 14% YoY (year-over-year) to a record $724 million in fiscal 2Q17, accounting for 20% of the company's revenue. The segment's non-GAAP (generally accepted accounting principles) operating profit rose 18% YoY to $195 million.
In Applied Materials' fiscal 2Q17 earnings call, CEO Gary Dickerson stated that, on a YoY basis, AGS revenue has increased for 14 consecutive quarters, at a CAGR (compound annual growth rate) of 10% in the last four years. The segment's operating margin hovers between 26% and 28%. In fiscal 2Q17, its operating margin stood at 26.9%.
During the quarter, Samsung (SSNLF) ramped up 10-nm node production. However, it is facing lower yield rates, which created a supply shortage of the Exynos processor and Qualcomm's (QCOM) Snapdragon 835 processor. Qualcomm expects yield rates to improve by calendar 4Q17.
AGS: 3Q17 guidance