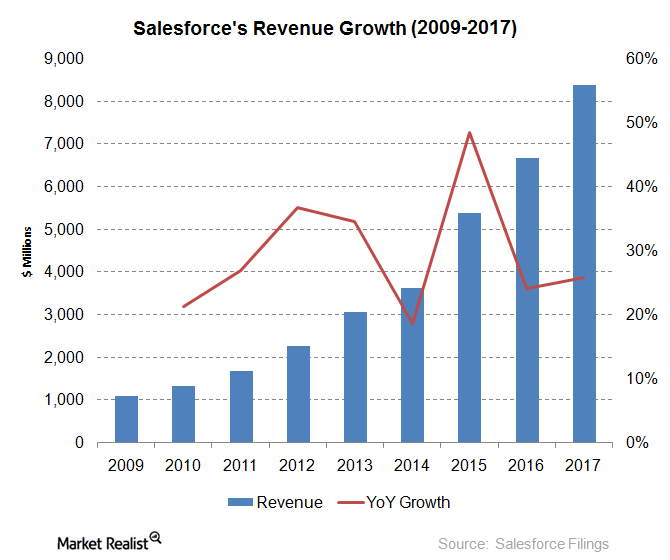 Why Salesforce's Stock Price Tripled in Less Than 5 Years
Salesforce meets or exceeds analyst expectations
Earlier in this series, we discussed Salesforce's (CRM) initiatives and the threat posed by Microsoft (MSFT), Adobe (ADBE), and Oracle (ORCL) in the cloud space. Despite this mounting competition, with each passing quarter, Salesforce has managed to increase its revenue guidance. Earlier, Salesforce expected revenue of $10.1 billion–$10.15 billion in fiscal 2018. Once again, it has raised its guidance, and now expects revenue and non-GAAP (generally accepted accounting principles) EPS (earnings per share) of $10.15 billion–$10.2 billion and $1.27–$1.29, respectively.

Article continues below advertisement
Article continues below advertisement
Stock price has almost tripled
In 2013, Salesforce stock hovered around $30 per share. It's now set to surpass $85 per share. Salesforce's annual revenue, which was $2.3 billion in fiscal 2013, may reach $10 billion by fiscal 2018.
Salesforce's consistent double-digit revenue growth rate and beating or meeting analysts' expectations have provided an upward momentum to its stock. In the last seven years, the company has met or exceeded analysts' expectations each quarter.