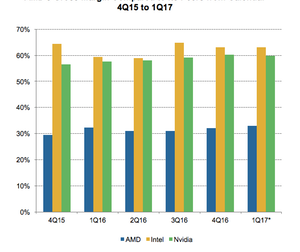 Why Is AMD's Gross Margin Lower than Its Rivals'?
By Puja Tayal

Updated
AMD's gross margin growth drivers
In the previous part of the series, we learned that Advanced Micro Devices (AMD) is looking to improve its gross margin by entering the high-end market and ramping up Global Foundries' (or GF) 14nm (nanometer) process node.
In fiscal 1Q17, AMD faced supply shortages, which could lead to lost revenue, reducing its market share. However, GF is now ramping up its production of AMD's Ryzen CPUs (central processing unit) and Vega GPUs (graphics processing unit).
Article continues below advertisement
Relationship between GF fab utilization and AMD's gross margin
AMD is looking to optimize GF's fabrication (or fab) capacity, as that would reduce the cost of production. GF will pass on the savings to its partner, AMD, in the form of discounts on volume purchases. 
A favorable high-end product mix, improved fab utilization, and cost benefits from the 14nm node will help AMD to increase its gross margin from 23% in fiscal 2016 to 34.5% in fiscal 2017 and 38.6% in fiscal 2018, according to some analysts.
Gross margin comparison
AMD's non-GAAP (generally accepted accounting principle) gross margin of 32% in fiscal 4Q16 was almost half of Intel's (INTC) gross margin of 63.1% and NVIDIA's (NVDA) gross margin of 60.2%. Such a wide gap exists between AMD and its rivals because the company has been lagging in terms of technology, forcing it to price its products lower than those of its rivals.
Moreover, the high-margin CPU and GPU market is dominated by Intel and NVIDIA. For instance, Intel dominates the high-margin server market with a 99% market share. It's also a major player in the workstation market, where the price of a CPU can go as high as $20,000.
Article continues below advertisement
NVIDIA's gross margin has been driven by its GeForce GTX 1080 GPU, which is popular among gaming enthusiasts. Its GPUs range from $200 to $1,200. Moreover, it's broadened its GPU market beyond gaming and into the deep learning and automotive spaces. Both these markets use NVIDIA's high-end GPUs, which are priced above $500.
AMD's ability to improve its gross margin
Now, AMD is entering the deep learning space with its Ryzen CPUs and Vega GPUs. It will likely price its products lower than Intel and NVIDIA to expand its margin via volume production. Its main objective is to gain market share instead of improving its profitability.
AMD aims to achieve a gross margin of up to 40% in its target financial model. AMD set this margin with its Wafer Supply Agreement with GF in mind. The agreement limits the chip company's ability to improve its gross margin beyond 40%. We'll look into the agreement in detail in the next part of the series.