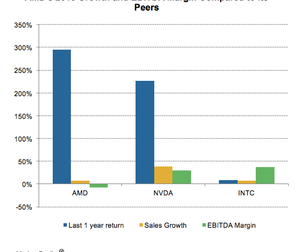 Why Did Goldman Sachs Downgrade AMD to a 'Sell'?
By Puja Tayal

Updated
Goldman Sachs' view on AMD
Advanced Micro Devices (AMD) is growing beyond the game console market toward PC (personal computers), virtual reality, and data center technology with its new Ryzen CPUs (central processing units) and Vega GPUs (graphics processing units).
However, Goldman Sachs analyst Toshiya Hari downgraded AMD stock to a "sell" and reduced its price target by 21.4%, from $14 to $11.
According to Hari, AMD's stock price has already accounted for the strong growth that will come from its new CPUs and GPUs. Moreover, AMD doesn't operate in niche markets, but in markets dominated by the cash-rich Intel (INTC) and NVIDIA (NVDA). This kind of environment limits AMD's opportunity to acquire a larger market share, as its two rivals won't sit quietly and let it take business away from them.
Article continues below advertisement
What's priced in?
Over the last year, AMD stock has risen almost 300%, and it's currently trading at 15 times its EPS (earnings per share). AMD's sales growth was just 7% in fiscal 2016, and it hasn't yet returned to profits. According to Hari, this "current risk-return is unfavorable" and indicates that the strong growth opportunities of 2017 and 2018 have already been priced in to the stock.
Hari believes that for AMD's price to continue to rise, it must first achieve its bullish financial targets. He stated that AMD must regain its shares in the high-end CPU and GPU markets and expand its gross margin from 31.3% in fiscal 2016 to 36%–40%. However, other analysts have stated that though AMD's future growth potential is already priced in, to what extent it's priced in is subjective.
Strong competition from Intel and NVIDIA
AMD is looking to regain its share in the high-end CPU and GPU markets by pricing its chips lower than Intel's and NVIDIA's. Hari expects AMD to gain only an 11.6% share in the desktop market, a 9.4% share in the notebook market, and a 1.1% share in the server market.
AMD's high-end Ryzen CPUs match the performance of Intel's CPUs at half the price. According to Hari, AMD has already exhausted its margin and can't go any lower without selling at a loss. Intel and NVIDIA have the ability to go lower, which could affect AMD's gross margin.
Analysts favoring AMD believe that the concerns regarding Intel and NVIDIA are overblown. The review for the Ryzen 7 shows that the product may gain a larger market share than is expected by Toshiya Hari. Any impact of price drops by Intel and NVIDIA wouldn't affect AMD immediately.
Overall, AMD has more upside potential than downside risk. In this series, we'll be looking at the company's opportunities and risks and their impacts on its earnings.