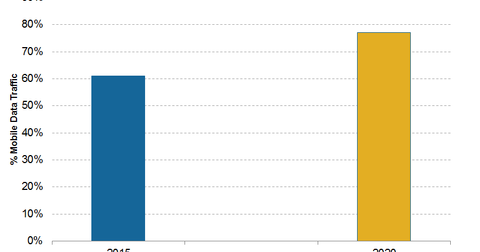 Key Updates on Verizon's MVNO Agreement with Comcast and Charter
By Ambrish Shah

Updated
MVNO agreement
Verizon (VZ) continues to view its mobile wholesale services as profitable. The company is optimistic about the business of licensing wireless agreements because it could provide an opportunity for growth, especially when its MVNOs (mobile virtual network operator) are targeting segments that Verizon doesn't actively pursue.
According to a report from The Wall Street Journal on April 6, 2017, "Comcast Corp. is entering the fiercely competitive wireless phone market" Further, according to the same report, "The nation's largest cable-TV company by subscribers unveiled Thursday details of a service, dubbed Xfinity Mobile, that it has been preparing to launch for years. The service will be available to customers only in combination with at least the company's home internet service."
Article continues below advertisement
The relationship between Verizon and Comcast (CMCSA) dates back to 2011. According to a FierceCable report, in 2011, Verizon purchased an AWS-1 (advanced wireless services) spectrum from Comcast, Bright House Networks, Cox, and Time Warner Cable. As part of this agreement, Verizon offered access to the company's wireless network "in a potential MVNO offering."
Charter Communications (CHTR) also recently announced that it would be activating its MVNO agreement with Verizon and would be unlikely to bring a product to market until the end of 2017, with no significant ramp up expected until well into 2018.
As MVNOs, Comcast and Charter will gain access to Verizon's network services at wholesale rates and will sell these services to customers.
Rise in mobile video data traffic
Wireless networks are increasingly coming under pressure regarding their speed and latency as more and more viewers stream videos online. A huge chunk of mobile data traffic is made up of video streaming, which drives wireless carriers' data consumption.
According to Cisco's (CSCO) VNI (Visual Networking Index), at the end of 2015, video constituted ~61% of all mobile data traffic in the United States. It's expected that by the end of 2020, this figure will have expanded to ~77%.