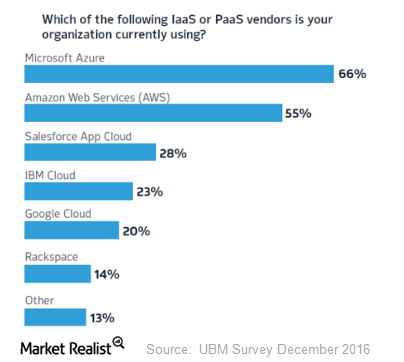 How Would Deis Improve Microsoft's Position in the Cloud Space?
By Anne Shields

Apr. 14 2017, Updated 7:37 a.m. ET
IaaS grew the most in overall cloud space
As we've already seen, the Deis buyout by Microsoft (MSFT) could strengthen Microsoft's Azure container offerings. Let's see now how the acquisition could benefit Microsoft in the cloud space.
According to a report by Synergy Research, the cloud market rose 25.0% on a YoY (year-over-year) basis to become a $148.0 billion space. Among all the services and offerings, IaaS (Infrastructure as a Service) and PaaS (Platform as a Service) grew the most at 53.0%. It was followed by hosted private cloud infrastructure and enterprise SaaS (Software as a Service), which grew 35.0% and 34.0%, respectively.
Article continues below advertisement
According to Statista, spending on public cloud IaaS hardware and software is expected to increase at a CAGR (compound annual growth rate) of ~16.4%, from $38.0 billion in 2016 to $173.0 billion in 2026. This anticipated growth is attracting leading technology players such as Microsoft to the IaaS space.
Container technology will facilitate IaaS adoption
Microsoft is the leader in the overall enterprise SaaS market. The fourth quarter of 2016 marked the third consecutive quarter that Microsoft dominated the SaaS space. Salesforce.com (CRM) used to be a leader in the SaaS space. Despite losing its position to Microsoft in the SaaS space, it still rules the CRM (customer relationship management) space.
According to Gartner, "Virtualization (in the form of VMs and containers) is a fundamental enabler to IaaS, and it will be used to establish private cloud services, public cloud services and interoperable hybrid cloud services. Effectively, all IaaS offerings will rely on VMs or container technology." IaaS provides services, storage, and OS (operating systems) on a subscription-based model.
In late 2016, Gartner named VMware (VMW) and Microsoft (MSFT) the leaders in the x86 server virtualization infrastructure space. After SaaS, Microsoft is aiming for the IaaS space. To compete in the IaaS space, Microsoft Azure has to expand and strengthen its foothold in the container ecosystem, which will be facilitated by its Deis acquisition.
The above graph shows the results of a survey by Sumo Logic, a data analytics firm. The survey, called "The New Normal: Cloud, DevOps, and SaaS Analytics Tools Reign in the Modern App Era," showed that companies prefer Microsoft Azure over Amazon (AMZN) cloud.