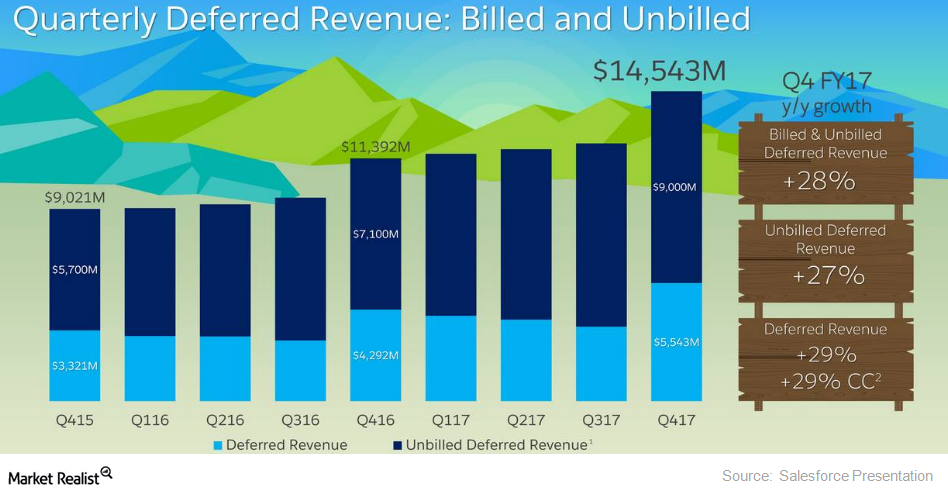 How Deferred Revenue Enabled Salesforce to Raise Its Guidance
Salesforce's deferred revenue
So far in this series, we've discussed Salesforce's (CRM) position in the cloud space and the threat posed by its peers. In fiscal 4Q17, Salesforce reported deferred revenue of $5.5 billion. Its unbilled deferred revenue stood at $9 billion. Its revenue grew 29% and 27%, respectively, in constant currency terms, indicating improvement in Salesforce's sales pipeline.
Article continues below advertisement
Article continues below advertisement
Sales pipeline growth
"Deferred revenue" refers to revenue from customer billings for subscription fees. Unbilled deferred revenue shows the amount contracted by a company that hasn't been billed yet. Customers sign a contract for multiyear periods. The company recognizes revenue as it arises over the period of a contract. Deferred revenue is one way to gauge a company's future subscription revenue.
Growth in deferred and unbilled deferred revenue improved Salesforce's sales pipeline, enabling it to raise its guidance for fiscal 2018. We'll discuss this in the next part of this series. Deferred revenue and unbilled deferred revenue are two important benchmarks for Salesforce. They will help it achieve the milestone of $10 billion in revenue by fiscal 2018.
Previously in this series, we saw that Salesforce generates more than 90% of its revenue from subscription and support revenue. As a result, Salesforce will likely benefit a great deal from increased cloud and SaaS (software-as-a-service) adoption. Despite being overtaken by Microsoft in the SaaS space, Salesforce continues to lead the CRM (customer relationship management) space.
Amazon (AMZN) continues to lead the cloud market. Microsoft (MSFT,) IBM (IBM), and Google (GOOG) are the next three big players in the space.