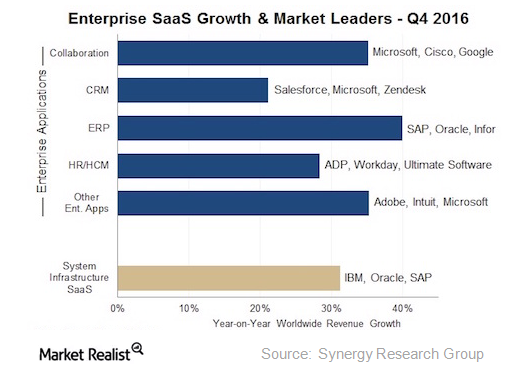 A Look at Salesforce's Decline in the Software-As-A-Service Space
Microsoft's edge over Salesforce in the cloud
Earlier in this series, we discussed how Adobe's (ADBE) and Microsoft's (MSFT) collaboration could loosen Salesforce's (CRM) grip on the cloud computing space. Salesforce pioneered SaaS (software-as-a-service) and had a first-mover advantage over peers Microsoft, Oracle (ORCL) and IBM (IBM). However, Microsoft soon became a dominant player in the cloud, overtaking Salesforce. According to a Synergy Research report, the cloud space grew 25% YoY (year-over-year) to become a $148 billion market in 2016. Although it is the most mature among cloud offerings, SaaS grew the least, by 34%. Within the SaaS space, ERP (enterprise resource planning) and collaboration grew the most. ERP reported 40% YoY growth, and collaboration saw 30% growth.
Article continues below advertisement
Article continues below advertisement
Growth in SaaS space would have benefited Salesforce the most when it was the leader. However, now that Microsoft is leading, it's reaping the benefits. Microsoft leads due to its domination in the collaboration segment, the largest in the SaaS space. Microsoft is behind Amazon in the overall cloud space.

Mounting competition could topple Salesforce
As the SaaS space is still fragmented, a company's dominance in a niche makes it a leader in that subsegment. Among leading SaaS players, Oracle and Google (GOOG) reported the highest growth. In Google's case, G Suite collaborative apps propelled it. It's likely that in Oracle's case, its dominance in ERP resulted in it recording the highest growth in the SaaS space in 4Q16. Like peers, Oracle has been on an acquisition spree. Its acquisition of NetSuite in 2016 strengthened its position not only in the SaaS space but also in ERP. Salesforce will find it difficult to compete with the rising competition.