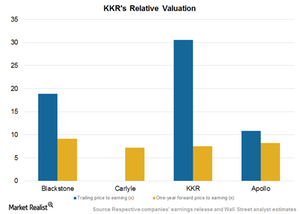 Why KKR's Valuations Could Rise in 2017
2017 outlook
KKR & Company (KKR) expects to post EPS (earnings per share) of $0.49 in 4Q16. The company reported an economic net income of $339 million in 4Q16, mainly due to appreciation in private equity and energy holdings.
The stock has risen 6% in the past quarter, mainly due to higher deployments, rising public portfolio valuations, and distributions.
First Data (FDC) is one of KKR's major holdings. The stock has risen 7.8% in 4Q16 as compared to a substantial decline in 1H16. In 2016, KKR successfully raised $28.8 billion across its product offerings. The company has deployment commitments of $3 billion in 1Q17, mainly in private markets across the Americas, Europe, and Asia.
KKR declared a dividend of $0.16 per share in 4Q16. This dividend translated into an annualized dividend yield of 3.6%. Its peers have the following dividend yields:
Together, these companies make up 4.1% of the PowerShares Global Listed Private Equity ETF (PSP).
Article continues below advertisement
Valuations
KKR is valued at 7.6x on a one-year forward earnings basis. In comparison, its peers are trading at 8.2x. The company is trading at a discount, mainly due to an average operating performance in 2016 and lower dividend yields when compared with the industry average. KKR's posted AUM (assets under management) reached ~$130 billion in 4Q16. Its fee-paying AUM was ~$101 billion.
KKR has fallen 34% over the past 12 months due to strong operating performance in 2H16, a rise in its holdings' valuations, and a rebound in energy holdings.