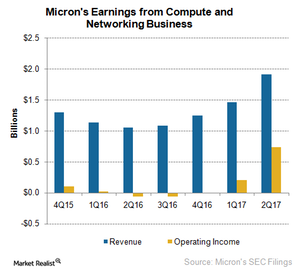 Inside Micron's CNBU: Key Growth Drivers
Micron's CNBU
The emergence of the data economy is creating new growth drivers for Micron Technology (MU) in every end market. Its biggest business is CNBU (compute and networking), accounting for 37% of the company's revenue in fiscal 2016. The unit is largely dominated by its DRAM (dynamic random access memory) offerings. Intel (INTC) is one of the major customers of CNBU as Micron is its sole DRAM (dynamic random-access memory) supplier.
Article continues below advertisement
Article continues below advertisement
CNBU's earnings trend
CNBU's earnings are directly proportional to DRAM prices. In fiscal 2016, the segment's revenue fell 32.6% YoY (year-over-year) to $4.5 billion while Micron's DRAM revenue fell 30.3% YoY to $7.2 billion.
As the DRAM market conditions improve CNBU's revenue rose 18.0% sequentially in fiscal 1Q17 driven by strong demand from cloud and graphics customers. This momentum is likely to continue in the coming few quarters.
CNBU growth drivers and the cloud
At the 2017 Analyst Day, Micron's Vice President of Embedded Solutions, Tom Eby, talked about the factors that would drive CNBU's growth in 2017.
Eby stated that memory demand in the cloud is at a tipping point, making it the fastest-growing end market, with an expected bit growth of 40% in 2017. The demand is being driven by increasing public and hybrid cloud deployments from Fortune 500 companies, start-ups, and growth in infrastructure to support core search, e-commerce, and social networking.
Article continues below advertisement
Graphics
Graphics is the second-fastest growth market, with an expected bit growth of 35% in 2017. The growth is being driven by the adoption of VR-AR (virtual and augmented reality) and increasing demand for higher graphics in PC and console gaming. Micron has developed a graphics memory chip GDDR5 in collaboration with Nvidia (NVDA) to meet the growing demand for bandwidth and graphics.
Enterprise
Tom Eby expects the enterprise market to grow 30% in 2017, as increasing adoption of real-time analytics by businesses has been driving the demand for the highest possible density memory configuration.
Micron's nonvolatile DIMM (dual in-line memory module) is a hybrid DRAM and NAND (negative AND) solution that ensures that data is never lost. DIMM helped Microsoft (MSFT) achieve 100% performance improvement inside certain database applications. Another high-performance memory solution that's becoming popular among enterprises is TSV (through-silicon via) stacked DDR solutions.
The networking and client spaces
In the networking space, Internet bandwidth requirements are likely to grow 5x by 2020, and this could be further aggravated by the rollout of 5G technology. These advents are attracting networking customers towards Micron's RLDRAM (reduced latency DRAM), HMC (hybrid memory cube), and GDDR-class memory.
Meanwhile, the client space is expected to grow 10% in 2017, largely driven by increasing memory content per device. There is no other growth opportunity in this segment, however, as PC sales continue to decline.