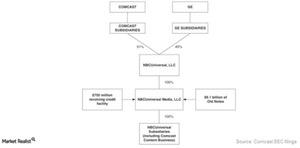 How Comcast Benefits from NBCUniversal Acquisition
By Shirley Pelts

Apr. 5 2017, Updated 9:35 a.m. ET
Comcast's acquisition of NBCUniversal
M&A activity seems to be driving the media industry towards consolidation. Comcast (CMCSA) had already brought content and the distribution of content together with its acquisition of NBCUniversal about six years ago. With its proposed acquisition of Time Warner (TWX), AT&T (T) seems to be employing a similar strategy.
Comcast discussed how it will benefit from its acquisition of NBCUniversal at the Deutsche Bank Media, Internet and Telecom Conference earlier this month. The company cited the example of the Olympics and said that its investment in the X1 platform had resulted in the company promoting its content in a different way. The company said that according to Nielsen, Olympics ratings in Comcast homes were 19% higher than they were in homes that didn't have Comcast.
Comcast also stated that the acquisition of NBCUniversal had enabled the company to employ electronic sell-through of movies through a voice command on Comcast's X1 remote. The company had also done stacking of television programming as a result of its NBCUniversal buy.
Article continues below advertisement
According to Comcast, its acquisition of NBCUniversal enables it to offer viewers different options for viewing content including linear television networks and online streaming. These initiatives help Comcast add video customers. Its high-speed Internet business had the highest subscriber additions in the past nine years.
Comcast's acquisition of NBCUniversal
In 2011, Comcast closed the acquisition of a 51% stake in NBCUniversal from General Electric (GE). Comcast acquired the 51% stake in NBCUniversal for a cash payment of $6.2 billion and also contributed the Comcast Content business to the joint venture, which included cable channels like E! and some of Comcast's regional sports networks.
The chart above shows the ownership structure in 2011 when Comcast acquired a 51% stake in NBCUniversal from GE.