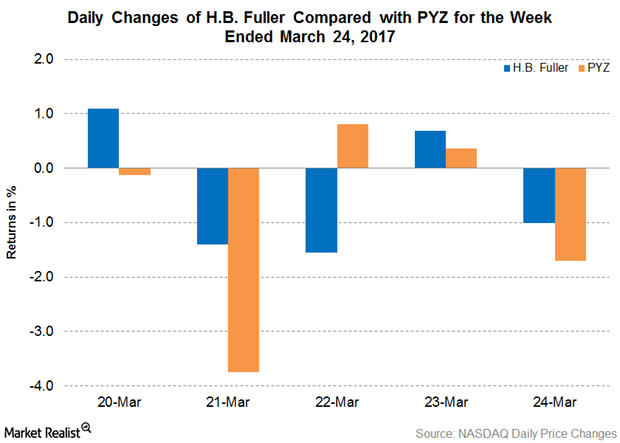 HB Fuller Expands in India with New R&D Center
HB Fuller opens R&D center in India
On March 21, 2017, HB Fuller (FUL) announced that it had officially opened its new business office and research and development center at its Shirwal manufacturing facility in India. The new facility is expected to help its customers solve problems and create new solutions in India and neighboring areas. In 2016, HB Fuller's Asia Pacific net revenue stood at $241.8 million, representing 12% of its total revenue.
Article continues below advertisement
HB Fuller's president and chief executive officer, Jim Owens, said, "We are pleased to be expanding our footprint in India. We are optimistic about the new opportunities our new business office and R&D center will provide us – and our customers. By having a state-of-the-art facility and adhesive experts on the ground in India, we will help accelerate innovation in the region and help drive customer performance."
HB Fuller stock performance
On March 24, 2017, FUL closed at $51.20, falling 2.2% for the week. Despite this loss, it was trading 4.9% above its 100-day moving average of $48.70, indicating an upward trend. Analysts expect FUL's 12-month target price to be $50.25. At present, the stock is already trading 1.9% above the target price. Year-to-date, the stock has risen 6.0%.
Its 14-day RSI (relative strength index) of 56 indicates that the stock is neither overbought nor oversold. An RSI of 70 and above indicates that a stock is overbought, while an RSI of 30 and below indicates that a stock is oversold.
The PowerShares DWA Basic Materials Momentum ETF (PYZ), which holds 2.1% in FUL as of March 10, 2017, underperformed FUL with a fall of 4.4% for the week to close at $59.90. The top holdings of the fund include Chemours (CC), FMC (FMC), and Newmarket (NEU) with weights of 5.5%, 3.8%, and 3.7%, respectively.