With Net Exits and Improved Yields, Prospect's Valuation Is Fair
Fiscal 2Q17 net exits Prospect Capital (PSEC) stock has risen 16% over the past three months and 16% over the past year. The company is currently trading near its 52-week high. The company saw net exits of $175.5 million in fiscal 2Q17, with higher exits from first-lien holdings. It saw lower leverage mainly due to higher exits, […]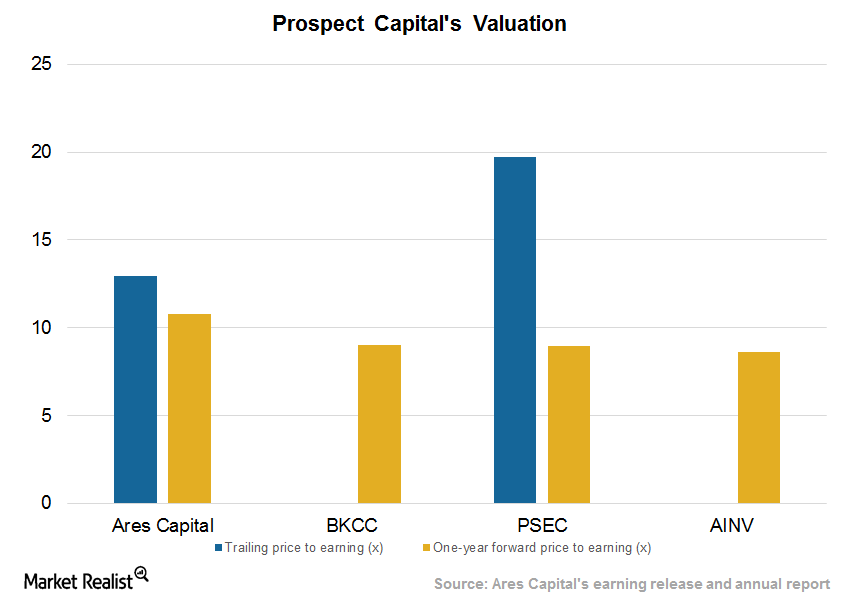 Fiscal 2Q17 net exits
Prospect Capital (PSEC) stock has risen 16% over the past three months and 16% over the past year. The company is currently trading near its 52-week high. The company saw net exits of $175.5 million in fiscal 2Q17, with higher exits from first-lien holdings. It saw lower leverage mainly due to higher exits, resulting in an improved balance sheet.
Prospect generated distributable income of $90 million, or $0.25 on a per-share basis, in fiscal 2Q17. In fiscal 2016, its EPS (earnings per share) totaled $1.07, higher than its dividends per share of $1. The company declared a dividend of $0.25 for the quarter, translating to an annualized yield of 11.4%, which is the highest among competitors in the industry. Here's how some of its peers' yields compare:
Together, these companies make up 4.1% of the PowerShares Global Listed Private Equity ETF (PSP).
Article continues below advertisement
Article continues below advertisement
Fair valuation
Prospect Capital is currently trading at 8.9x on a one-year forward earnings basis. Peers are trading at an average of 9.5x. Prospect's valuation gap has narrowed over the last few quarters due to a rise in its stock, mainly due to a stable operating performance. The company's yield and origination are expected to rise sequentially in fiscal 2Q17.
Prospect's plan to invest in multiple strategies and deployments towards new investment pipelines has enabled it to diversify risk and garner higher yields. The company's major drivers in the upcoming quarters could be origination, yield, and fundraising capability. In the next and last part of this series, we'll review how analysts rated the company in January 2017.