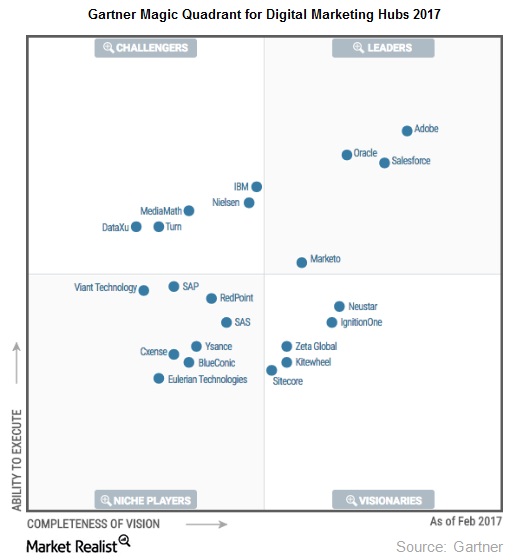 Why Salesforce Was Named a Digital Marketing Hub Leader
Focus on Marketing Cloud
Earlier in this series, we discussed Salesforce's (CRM) acquisition of Sequence. On February 20, 2017, Salesforce shared that it has been positioned as a leader by Gartner in its February 2017 Magic Quadrant for Digital Marketing Hubs report.
Salesforce's Marketing Cloud CEO and chief analytics officer Bob Stutz said that "we believe Salesforce's leadership position in the Digital Marketing Hubs Magic Quadrant further validates our vision for the future of marketing." He added that "Marketing Cloud has been transformative in enabling our customers across industries to deliver personalized experiences to consumers."
Article continues below advertisement
Salesforce's Marketing Cloud, boosted by the acquisition of Demandware, is expected to generate a $1 billion run rate. It grew 46% to $247.2 million in fiscal 3Q17, the most among Salesforce's cloud offerings. However, excluding Demandware, Marketing Cloud grew only 21% on a YoY (year-over-year) basis.
ExactTarget, Buddy Media, Radian6, Relate IQ, and Heroku are among Salesforce's other strategic buyouts to equip Marketing Cloud. Salesforce spent roughly $4 billion on these acquisitions.

Adobe poses a threat to Salesforce
Digital marketing is expected to witness huge growth due to increased adoption of big data analytics, mobility, and social media, which are rapidly changing the IT (information technology) landscape.
Although Salesforce was named a leader in digital marketing, Adobe Systems (ADBE) leads the space, as the above chart shows. In late 2016, Adobe acquired TubeMogul, which was positioned as a leader in the Forrester Wave 2015 Video Advertising Demand-Side Platforms report. The integration of the two leaders would not only strengthen Adobe's marketing cloud services but also expand its reach.
To further expand the presence of its marketing cloud offerings, Adobe partnered with Microsoft (MSFT). Oracle (ORCL) and IBM (IBM) are also aggressively chasing the space due to the huge growth expected. Oracle acquired AddThis and NetSuite to bolster its offerings in the marketing cloud space.
The increasing competition in marketing cloud space will likely stir players such as Salesforce into action. It's very likely Salesforce will continue its marketing cloud buyout spree in 2017.