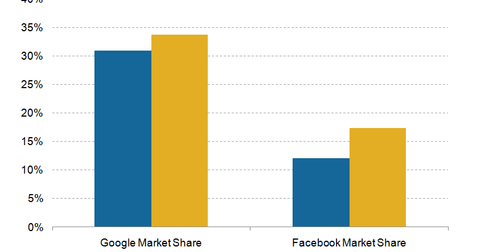 Why Alphabet and Facebook Dominate the Online Ad Market
By Puneet Sikka

Updated
Google maintaining its leadership position in digital ad market
Google (GOOG) has credited its growth in the online ad market to three key drivers: mobile search, YouTube, and programmatic ads. We've already looked at Google's mobile search and YouTube businesses in the previous parts of this series. 
Programmatic ads are the technological framework for conducting automatic real-time auctions of display ads. Google's programmatic ad business includes DoubleClick Ad Exchange and DoubleClick Bid Manager. According to an October 2016 report from eMarketer, 60.0% of US digital video ad spending came from programmatic channels in 2016.
These drivers have helped Google maintain its leadership position in the worldwide digital ad market. According to an eMarketer report, as of 2016, Google had a 31.0% share in this market. Facebook (FB) was a distant second with 12.0% market share.
The situation is even better for Google and Facebook in the mobile ad market, with market shares of 34.0% and 17.0%, respectively. Google and Facebook continue to dominate the digital ad market.
Article continues below advertisement
Facebook has become an aggressive player in the video ad market
The other players in this market are Twitter (TWTR) and Yahoo!, which is in the process of being acquired by Verizon (VZ). At best, they're minor players, each having less than a 6.0% market share, according to eMarketer.
Facebook has become an aggressive player in the digital ad market, especially the video ad market, over the last few quarters. Facebook's overall ad revenues rose 57.0% to $27.0 billion in 2016. Google had overall ad revenues of $79.0 billion in 2016, a rise of just 18.0%. Twitter had an even lower revenue growth rate of 14.0% in 2016 compared to 2015.