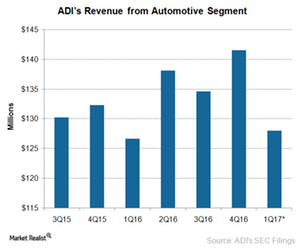 Why ADI's Automotive Is a Future Growth Driver
By Puja Tayal

Feb. 13 2017, Updated 7:35 a.m. ET
ADI's Automotive segment
At the J.P. Morgan Tech Forum at CES 2017, Analog Devices (ADI) Vice President of Automotive Mark Gill explained that the Automotive segment has grown at a CAGR (compound annual growth rate) of 15% between fiscal 2009 and 2016 and now accounts for 14% of the company's revenue. This segment will likely see strong growth after the Linear Technology (LLTC) acquisition, because the latter should improve the former's automotive offerings.
Article continues below advertisement
Automotive revenue trend
Fiscal 2Q and 4Q are seasonally strong quarters for the Automotive segment. In fiscal 4Q16, ADI's automotive revenue rose 5% sequentially to $141 million as all sectors reported growth. Automotive revenues rose 7% on a YoY (year-over-year) basis in fiscal 4Q16, indicating a better-than-expected seasonal growth during the quarter.
For fiscal 1Q17, ADI expects automotive revenue to fall by mid-single digits to around $134 million as seasonal demand slows. Notably, NXP Semiconductors (NXPI) reported 1% sequential decline in its automotive revenues, while Maxim Integrated (MXIM) reported 3.7% sequential growth in automotive revenues.
What's driving growth in automotive?
At the J.P. Morgan Tech Forum, Gill highlighted the three key technologies that are driving ADI's automotive revenue: HEV (hybrid electric vehicle), start-stop technology, and audio technology.
Gill explained that HEV provides a strong growth opportunity as several types of semiconductors, such as converters, sense amplifiers, and drive motors, are used for various types of tasks. According to McKinsey, drivetrains for hybrid cars contain ten times more semiconductor content than an internal-combustion drivetrain.
Start-stop and audio technologies
The adoption of start-stop technology is growing. Gill noted that the technology was first deployed in Europe, but it's now expanding to China and North America. More and more, regulators are mandating this technology as it stops the car at traffic lights and turns off the engine to reduce pollution—without hurting the car battery. Gill expects the growth in start-stop to continue in the near future as more countries adopt this technology.
Gill explained that audio applications for cars are becoming more complex as automakers introduce technologies such as noise cancellation, sound enhancement, and in-cabin communications. This requires high-fidelity audio chips to be deployed throughout the car.
ADI is focusing its development efforts in the above technologies and technologies that support autonomous driving. In the next part, we'll look at ADI's technology initiatives in the automotive space.