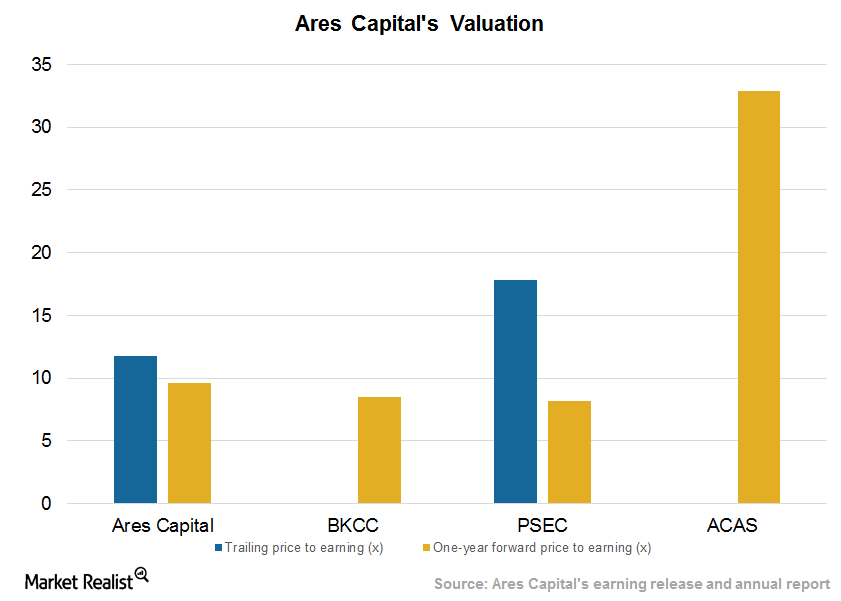 What Boosted Ares Capital's Valuation?
Stock performance
Ares Capital (ARCC) stock has risen ~14% over the past six months and 37% over the past year due to improved operating performance. In 3Q16, the company saw higher deployments and yields, and lower expenses. The company declared a dividend of $0.38 per share in 3Q16, in line with that of 3Q15.
With a dividend yield of 8.7%, the acquisition of American Capital (ACAS), and stable yields, the company may provide better returns to its shareholders over the next few quarters. Here's how some of its peers compare regarding dividends:
Together, these companies form 6.1% of the PowerShares Global Listed Private Equity ETF (PSP). In 4Q16, Ares Capital is expected to see subdued deployments, progress in building up its SDLP (senior direct lending program), and stabilized yields.
Valuation
Currently, Ares Capital is trading at 11x on a one-year forward earnings basis. Its peers are trading at 9.0x. Historically, the company has traded at a premium due to its quality portfolio and SSLP (senior secured lending program) partnership with GE Capital. The premium has widened over the past couple of quarters due to the company's strong performance and stable earnings. Middle-market fund managers could see their yields rebound as the Fed is likely gearing up for multiple rate hikes in 2017. These hikes could result in lending at higher yields.
If Ares Capital can increase its originations and build its SDLP portfolio at a faster pace with a better yield profile, then investors may see higher investment and interest income. In the next and last part of this series, we'll review Ares Capital's analyst ratings.
Article continues below advertisement
Article continues below advertisement