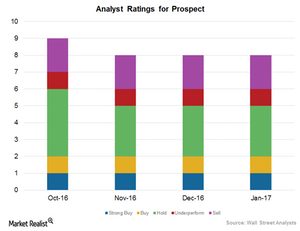 What Analyst Ratings Suggest about Prospect's Performance
Analysts' ratings for Prospect
Of the eight analysts covering Prospect Capital (PSEC), two rated it a "buy" or "strong buy" in January 2017. Three analysts, or ~37.5%, rated it a "hold." One analyst rated Prospect an "underperform" and two analysts rated the company a "sell." Prospect's mean target price is $8.05 per share, implying a fall of 7.9% from its current level. Prospect's rating has remained stable over the past four months, with no change in analyst ratings.
Article continues below advertisement
Competitors' ratings
Let's look at ratings for Prospect's major competitors. Of the 17 analysts covering Ares Capital (ARCC) stock, 12 have given it a "buy" or "strong buy," with five analysts giving a "hold" rating. For BlackRock Capital Investment (BKCC), all five analysts covering the stock gave it a "hold." For Apollo Investment (AINV), four of the 13 analysts covering the stock rated the company a "buy" or "strong buy," nine analysts gave "hold" ratings, and two analysts gave "underperform" or "sell" ratings. Together, Prospect's competitors make up 4.1% of the PowerShares Global Listed Private Equity ETF (PSP).