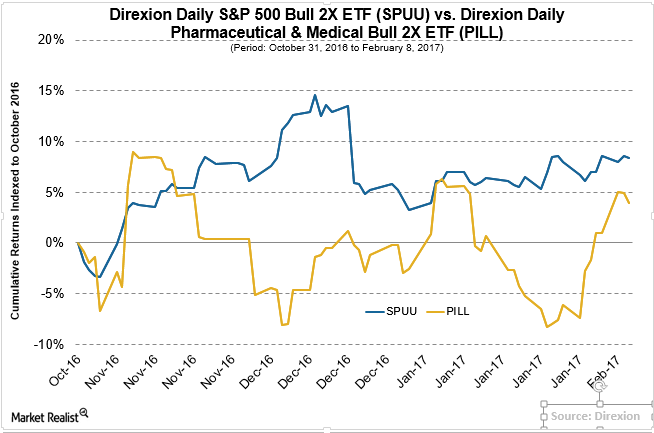 Why Pharmaceutical Stocks Have Taken a Hit
By Sanmit Amin

Feb. 27 2017, Published 12:23 p.m. ET
Direxion
Fighting for American Value
President Trump says he wants to keep government spending down and help keep expenses down for Americans too. To that end, he has so far targeted aerospace and defense companies and pharmaceuticals companies as well. President Trump has tweeted about individual companies in A&D including Lockheed and Boeing. Though those stocks have recovered several times from his attacks, investors will remain wary of any individual company he may go after. He has also vowed to "rebuild" military strength in the US. This will be a fine balancing act of both building up the military-industrial complex while hammering companies on costs.
Article continues below advertisement
Obviously, another big issue for Trump has been the Affordable Care Act. Another executive order laid out the administration's policy in regards to the ACA, really laying out the goal to repeal and replace the program. Possibly more damning, though, has been Trump using his bully pulpit to speak about how drug prices are too high, which has led to the underperformance of pharmaceutical companies.
President Trump has often stated that he wants to get rid of the Affordable Care Act, also known as Obamacare, and replace it with something that encourages free-market competition. He also wants to transform Medicaid. Some of his proposals include eliminating rules that establish who will be covered, such as some children and pregnant women, and which benefits will be offered.
Trump has also suggested that companies should be held accountable if there are sharp rises in prices. He could also take measures to allow easy access to cheaper imported drugs to promote competition and keep prices affordable. That has caused the underperformance of pharmaceutical stocks (PILL) (PILS) relative to the S&P 500 (SPUU).