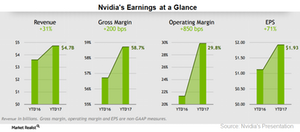 Nvidia's New Revenue Streams—And Why They Matter
By Puja Tayal

Updated
Fiscal 2017: a memorable year for Nvidia
Fiscal 2017 was Nvidia's (NVDA) year, with the company's stock rising 224% during the period. The company's revenue rose more than 30%, and its EPS (earnings per share) rose more than 70% in the first three quarters of the fiscal year. Nvidia reports its fiscal 4Q17 earnings on February 9, 2017, and it's expected to end the year with seasonally strong revenue.
All this growth comes even though Nvidia lost ~10% in discrete GPU (graphics processing unit) market share to rival Advanced Micro Devices (AMD). But this was because Nvidia has diversified its business away from computing and gaming into the fast-growing markets of deep learning and autonomous cars.
Article continues below advertisement
Nvidia's new revenue streams 
Nvidia is now leveraging its GPU technology to expand into different markets. At the 2017 Consumer Electronics Show, the company unveiled its GPUs for PC gaming, its Xavier SoC (system on chip) for AI (artificial intelligence) and autonomous cars, its Tegra processor for Nintendo's Switch console, and its Shield TV with 4K display and Google (GOOG) Assistant. Nvidia also unveiled its partnership with Audi and Mercedes-Benz for self-driving cars.
Although Nvidia is looking for new revenue streams, gaming continues to be its biggest revenue generator, contributing 63% towards the company's revenue. The company's hardware products are too costly for mainstream users, and so it has launched lower-end GPUs that compete with AMD's low-end GPUs.
Nvidia taps GPU-as-a-service
Nvidia has also started GPU-as-a-service through its cloud gaming GeForce NOW. This allows gamers to enjoy the GeForce Experience without having to buy Nvidia's expensive GPUs. The company is also bringing the feature of streaming games live on Facebook (FB).
Nvidia is not the first to diversify into different streams. Apple, Google, and Microsoft have proven that a company can succeed in various technology segments. But Nvidia is currently in its growth phase and will likely report strong growth in coming quarters.
That said, competition is slowly picking up as Intel (INTC) and Xilinx (XLNX) enter the deep learning market with their FPGAs (field programmable gate arrays) and as AMD competes with its GPUs.
In this series, we'll take a close look at what investors can expect from Nvidia's fiscal 4Q17 earnings and where the company appears to be heading in fiscal 2018 with its technology developments.