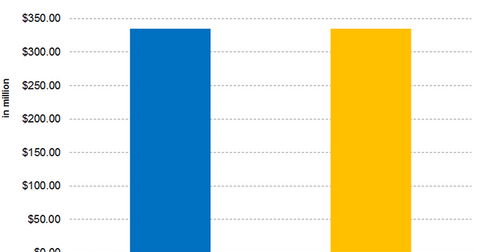 Impact of the PFOA Litigation Settlement on DuPont
By Peter Neil

Updated
DuPont to settle PFOA litigation
On February 13, 2017, DuPont (DD) reached an agreement to a settlement involving ~3,500 lawsuits related to PFOA (perfluorooctanoic acid) and its salts. Injuries had been reported due to environmental releases of PFOA from facilities in West Virginia.
DuPont agreed to a settlement amount of $670.7 million in cash—50% will be paid by Chemours (CC). The good thing for DuPont is that it's getting rid of the litigation.
Article continues below advertisement
Future liabilities
DuPont and Chemours reached an agreement about possible litigation that could arise in the future. For the next five years, Chemours will pay for $25 million in PFOA liabilities annually. DuPont will pay for the next $25 million in liabilities. After five years, DuPont won't have a commitment towards PFOA liability that could arise. However, the liability would continue for Chemours. After five years, Chemours won't ask DuPont for any funds related to PFOA liability.
Impact on DuPont
As of December 31, 2016, DuPont accumulated $117 million related to PFOA. As we mentioned above, the liability of $670.7 million is split between Chemours and DuPont. As a result, DuPont will have to bear $335.35 million. With only $117 million accumulated, DuPont has to fund another $218.35 million. It could impact DuPont's future earnings, although it isn't clear when DuPont will show these charges in its books.
Investors can indirectly hold DuPont by investing in the ProShares Ultra Basic Materials ETF (UYM). UYM invested 8.2% in DuPont. The fund's other top holdings include Dow Chemical (DOW) and Monsanto (MON). They have weights of 8.3% and 5.8% as of February 15, 2017.
In the next part, we'll look at DuPont's stock performance in 2017.