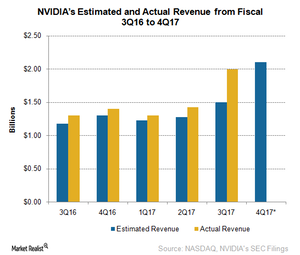 Could Nvidia Post Record Revenue in Fiscal 4Q17?
Pascal drives Nvidia's revenue to new highs
Nvidia (NVDA) is looking to tap into new revenue streams beyond gaming while aiming to tap every possible way of generating revenue from gaming. Fiscal 2017 has been a good year for Nvidia as its revolutionary Pascal GPU (graphics processing unit) succeeded in generating demand not only in gaming but also in the deep learning and autonomous car markets. This momentum is likely to be evident in fiscal 4Q17 as well.
Article continues below advertisement
Fiscal 4Q17 revenue estimates
For fiscal 4Q17, Nvidia expects its revenue to grow 5% sequentially to $2.1 billion, which would be in line with analysts' expectations. Given its revenue trend, the company has exceeded analysts' estimates by an average of 11.5% for the past five quarters.
If the company manages to maintain this trend, it could report revenues of ~$2.3 billion in fiscal 4Q17. This would increase the company's annual revenue by 40% to $7 billion in fiscal 2017.
Nvidia changes revenue strategy with Pascal GPUs
In fiscal 3Q17, Nvidia's revenue rose $570 million, and the majority of this came from Pascal GPU. This is because the company changed its revenue strategy with GTX 1080/1070.
As a normal practice, Nvidia provided the Founders Edition of its add-in-boards through its major partners for a premium price. The Founders Edition was going to be available only until the partners launched their customized add-in-boards. But strong demand for the PC-based GPUs encouraged Nvidia to continue selling its Founders Edition at a premium price through its website and a few retail stores, according to DigiTimes.
According to the DigiTimes report, graphics card vendors are smaller and less profitable than Nvidia. The top-six graphics card vendors together earned profits of around $160 million, whereas Nvidia alone earned an operating profit of over $700 million.
Article continues below advertisement
The larger availability of Nvidia' Founder Edition could thus hurt the profits of its partners in Taiwan (EWT) and China, discouraging them from doing business with Nvidia going forward. For this reason, industry sources recommend that Nvidia limit the availability of the Founders Edition to maintain healthy relations with its partners.
What factors will likely drive Nvidia's revenue in fiscal 4Q17?
Nvidia's fiscal 4Q17 revenues will likely be driven by strong demand in the data center market, as Nvidia has partnered with Microsoft (MSFT) and IBM (IBM) in their AI (artificial intelligence) initiative. The chip supplier will also likely see strong growth in the gaming sector, where it launched low-end GPUs that compete with Advanced Micro Devices' (AMD) Polaris GPUs.
Despite its seasonal weakness, Nvidia may report a stronger guidance for fiscal 1Q18 as it supplies Tegra processors for the Nintendo Switch and partners with Audi and Mercedes-Benz over self-driving cars.
Now let's look at Nvidia's profitability.