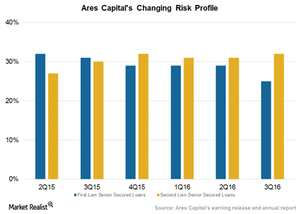 Could Ares Capital's Second-Lien Preference Continue in 4Q?
Second-lien preference
Ares Capital (ARCC) has consistently increased its exposure to investments in second-lien debt to garner higher yields. In 3Q16, second-lien debt made up 23% of its new commitments and exits made up 18%. Second-lien loans formed 32% of the company's total portfolio, and first-lien senior secured loans fell to 25% from 29% in the previous quarter. This trend is expected to continue.
Ares Capital's exposure to first-lien loans fell to 25% in 3Q16 from 34% in 1Q15. The company is aiming for a minimum of a 400-basis-point premium on what it generates on first-lien offerings.
Article continues below advertisement
Ares Capital's portfolio changes and the building up of its SDLP (senior direct lending program) has led to lower yields in the last couple of quarters. However, as the company builds up its SDLP further over the next few quarters, its yields could improve. On the macro front, the Fed is expected to raise rates at least twice in 2017, which should improve middle-market lenders' yields.
Ares Capital's management believes that a careful selection of companies for investments can help it reduce risk from second-lien investments. Whereas the company saw a return of 7.2% on its equity, its peers' returns were as follows:
Together, these companies form 6.1% of the PowerShares Global Listed Private Equity ETF (PSP).
October 2016 net exits
In October 2016, Ares Capital made new investment commitments of approximately $73 million. These carried an average weighted average yield of 9.7%. Of these investments, $67 million were funded. The company saw exits totaling $182 million with a weighted average yield of 9.6%. Of the new commitments, 71% were SDLP investments. In the next part, we'll look at how the company built up its SDLP in 4Q16.