Ares Capital's Credit Statistics Expected to Improve in 4Q16
Broad markets driving statistics Ares Capital's (ARCC) portfolio valuation and total assets stood at $8.8 billion and $9.1 billion, respectively, on September 30, 2016. The company's corporate borrowers posted last-12-month EBITDA (earnings before interest, tax, depreciation, and amortization) growth of ~7% due to adequate growth and repayment capability. In 3Q16, Ares Capital's credit statistics fell, with non-accrual […]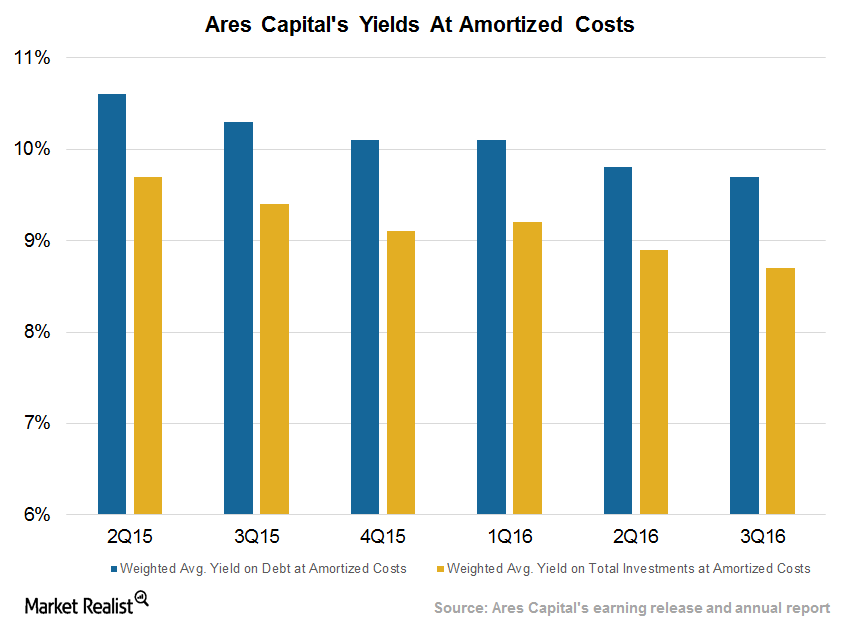 Broad markets driving statistics
Ares Capital's (ARCC) portfolio valuation and total assets stood at $8.8 billion and $9.1 billion, respectively, on September 30, 2016. The company's corporate borrowers posted last-12-month EBITDA (earnings before interest, tax, depreciation, and amortization) growth of ~7% due to adequate growth and repayment capability. In 3Q16, Ares Capital's credit statistics fell, with non-accrual loans standing at ~2.3% of the company's portfolio against 2.6% at the end of 2015 and 1.3% in the previous quarter. In 4Q16, the company's statistics, yields, and deployments are expected to stabilize with the shift towards senior secured loans.
Article continues below advertisement
Article continues below advertisement
As of September 30, 2016, Ares Capital's weighted average yield on total investments at amortized cost fell to 8.7% from 9.1% in the prior year's corresponding quarter. Ares Capital posted year-over-year revenue growth of 6.1% amid volatile debt markets. Investment management peers' revenue changes were as follows:
Together, these companies form 6.1% of the PowerShares Global Listed Private Equity ETF (PSP).
American Capital acquisition
Ares Capital is working on a smooth integration with American Capital (ACAS). On May 23, 2016, Ares Capital signed a definitive agreement to acquire American Capital in a $4.0 billion cash-and-stock transaction. The acquisition will help Ares Capital by expanding offerings and clientele in the closed-end fund industry. The company is funding the acquisition with $460 million in new debt issuances, which would bring the total commitments of the revolving credit facility to $1.0 billion. Middle-market lenders have seen strong competition for quality paper over the past couple of years. The acquisitions will result in consolidation of the industry and overall margin improvement. In the next part, we'll study Ares Capital's changing risk profile.