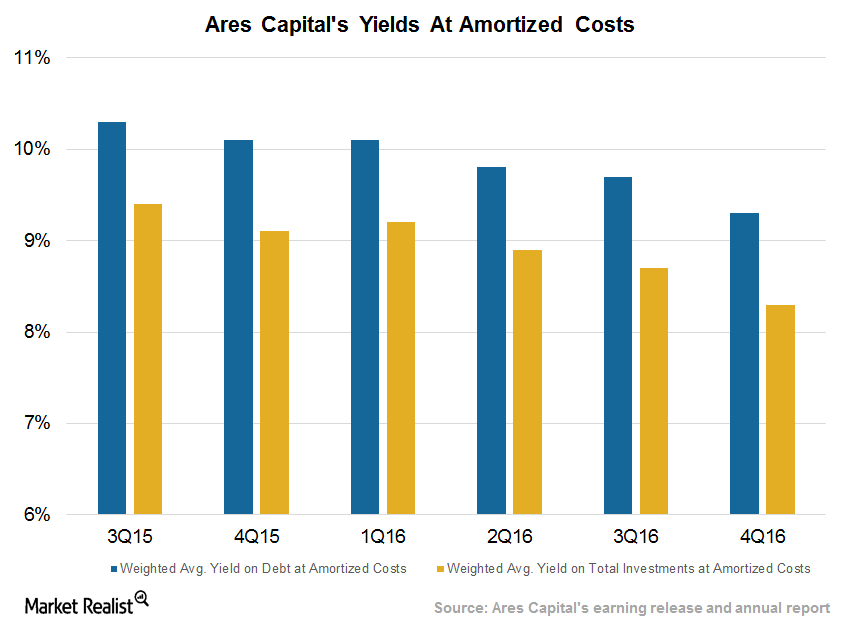 Ares Capital's Credit Statistics Deteriorated Marginally in 4Q16
Non-accrual loans
Ares Capital's (ARCC) portfolio totaled $8.8 billion at fair value on December 31, 2016. Its total assets stood at $9.2 billion. The company's portfolio companies reported trailing-12-month EBITDA (earnings before interest, tax, depreciation, and amortization) growth of ~4%, compared to 7% in the previous quarter.
The company's credit statistics fell sequentially as its non-accrual loans rose in 4Q16. About 2.9% of the company's portfolio was at cost, compared to 2.6% at the end of 2015 and 2.3% in 3Q16. 3.1% of its portfolio was at fair value on a non-accrual basis as of December 31, 2016.
On December 31, 2016, the weighted average yield on the company's debt and other income-producing securities at amortized costs fell to 9.3%, compared to 10.1% on December 31, 2015. Its weighted average yield on total investments at amortized cost fell to 8.3% from 9.1% in the same timeframe.
Ares Capital posted net investment growth of -1.2% year-over-year (or YoY) amid volatile market conditions. Below are the YoY revenue growths of the company's investment management competitors:
Together, these companies form 6.1% of the PowerShares Global Listed Private Equity ETF (PSP).
Article continues below advertisement
ACAS acquisition
Ares Capital completed its acquisition of American Capital (ACAS) as on January 3, 2017. On May 23, 2016, Ares Capital entered into an agreement to acquire American Capital in a cash and stock transaction for a valuation of $4 billion. The acquisition will lead to the consolidation of the closed-end fund industry. It will also help Ares Capital to expand its offerings and clientele, especially in the retail segment.
Ares Capital is funding the acquisition through $460 million in new debt commitments, which will bring the total commitments of its revolving credit facility to $1 billion.