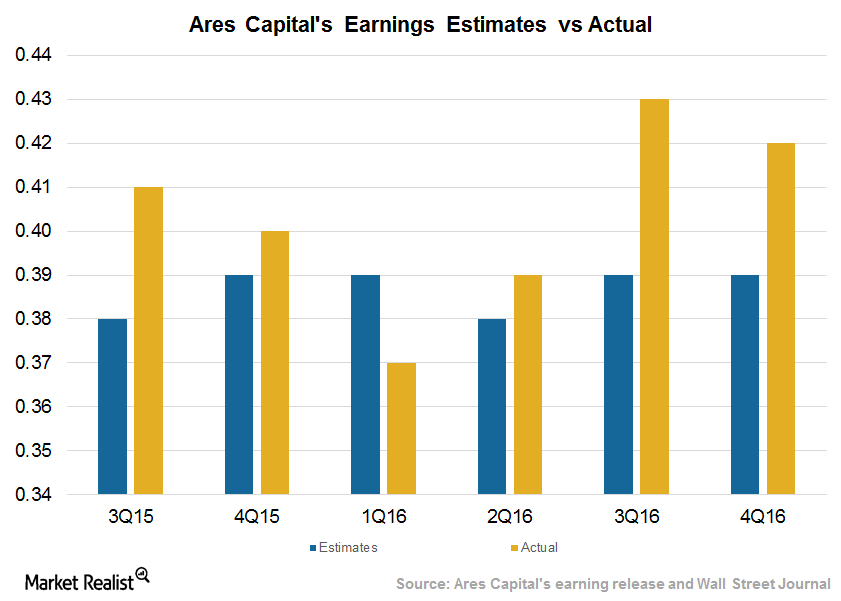 Ares Capital Beat Estimates for Deployments, Yields in 4Q16
Beats estimates
Ares Capital (ARCC) posted EPS (earnings per share) of $0.42, beating Wall Street analysts' consensus estimate of $0.39 in 4Q16. The company's net asset value stood at $5.2 billion, or $16.45 per share, on December 31, 2016, compared to $16.59 in 3Q16.
The company completed its acquisition of American Capital (ACAS) on January 3, 2017. The combination of the two companies could create a giant in the middle-market debt provider business.
At fair value, Ares Capital's portfolio investments stood at $8.8 billion on December 31, 2016, compared to $9.1 billion in 4Q15 and $8.8 billion in 3Q16.
Article continues below advertisement
In a company press release on February 22, 2017, Kipp deVeer, CEO of Ares Capital, said, "We finished 2016 with strong fourth quarter earnings in another very good year for Ares Capital where we increased our core earnings per share by 5% and GAAP earnings per share by 26%. Our consistently strong investment performance also drove our seventh year in a row of net realized gains from our portfolio."
Here's how some of Ares Capital's investment management peers fared with their quarterly earnings:
Prospect Capital (PSEC) beat estimates.
Blackstone Group (BX) beat estimates.
KKR & Co. (KKR) beat estimates.
Together, all these companies form 5.8% of the PowerShares Global Listed Private Equity ETF (PSP).
Mid-market loan provider
Ares Capital is a financial services company providing debt and equity funding solutions to investment-company-backed businesses, US middle-market companies, and power-generation projects. The company originates and invests in secured loans, senior mezzanine debt, and equity investments via its national direct origination platform.
Ares Capital acts as a closed-end fund house, and it's regulated as a business development company. The company's main objective is to generate both interest income and capital appreciation through various investments.
In the following parts of this series, we'll study Ares Capital's portfolio, yields, capital deployment, performance, ACAS acquisition, dividends, and valuations in 4Q16.