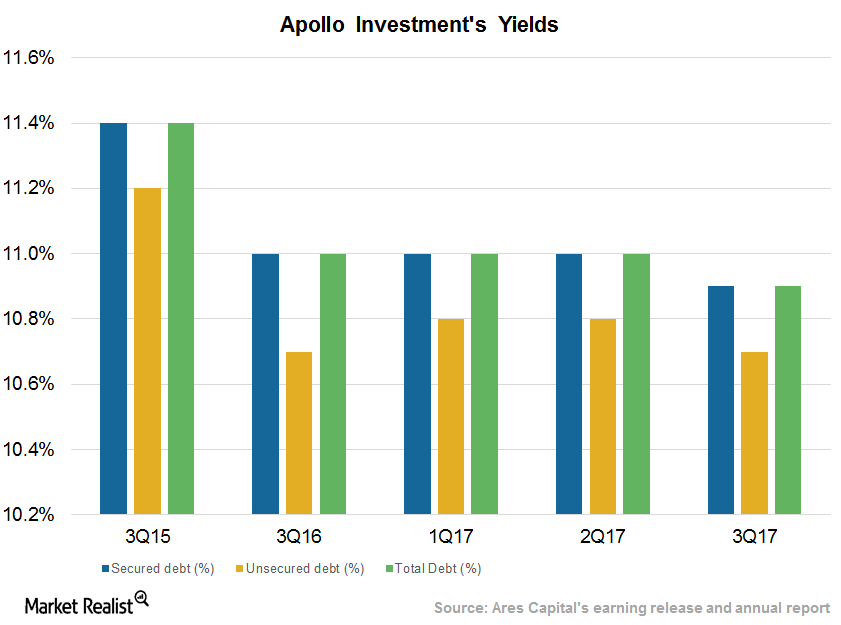 Apollo Investment's Yields Stabilize on First and Second Liens
Stabilizing yields
Apollo Investment's (AINV) yields have declined and stabilized at ~10.9%, on par with average returns garnered by other closed-end funds. The company saw a yield of 10.9% in fiscal 3Q17 for the full portfolio. Its yields stood at 11.4% in fiscal 3Q16. Sequentially, its yields fell 0.1% for both secured and unsecured debt.
Among Apollo Investment's competitors, Ares Capital (ARCC) posted a yield of 8.8%, and Prospect Capital (PSEC) yielded more than 11.9%. Blackstone (BX) and KKR (KKR) generated double-digit returns on equity. Together, these companies form 6.3% of the PowerShares Global Listed Private Equity ETF (PSP).
Article continues below advertisement
Apollo Investment has a major allocation toward first lien and second lien investments in order to diversify and reduce its risks. The investments in structured offerings formed less than 10% of the total new investments on December 31, 2016. The company is gradually adjusting its portfolio, with low double-digit return investments carrying lower risk.
AINV's investments made in fiscal 3Q17 carry a yield of 10.2%, and the investments exited carry a yield of 9.9%. In fiscal 2Q17, these numbers stood at 10.3% and 10.7%, respectively.
Exiting riskier bets
At the end of fiscal 3Q17, Apollo Investment's (AINV) oil and gas investments represented 9.4% of its total portfolio, compared to 9.7% in the previous quarter. This decline was primarily due to the exit of investments from select companies. AINV has major stakes in Canacol Energy Ltd. and Glacier Oil & Gas.
Other than the energy space, AINV has major investments in aviation and consumer transportation (19.1%), business services (18.6%), and NBFCs and real estate (8.7%).[1. on December 31, 2016]
In the next part, we'll study Apollo Investment's realized and unrealized gains in fiscal 3Q17.