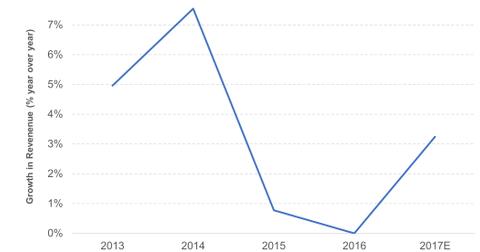 A Quick Look at VFC's Fiscal 2016 Revenue Drivers
By Sonya Bells

Updated
Evaluating VFC's performance in fiscal 2016
VF Corporation (VFC) reported a flat top line from continuing operations in fiscal 2016 as revenues stood at $12 billion during the year.
Scott A. Roe, vice president and CFO of VF Corporation, commented during the company's fiscal 4Q16 earnings call, "To recap the full year, 2016 grew 1% on a currency-neutral basis, driven by 6% growth in our international business and 9% growth in D2C. This was despite the impact of bankruptcies and reduced sales to the off-price channel compared with 2015. These two actions alone accounted for almost 2% of top-line growth."
International revenues, which represented 38% of the company's total sales, rose 4% YoY during fiscal 2016. On a neutral-currency basis, VFC's revenues rose 5%, primarily driven by double-digit growth in China and the non-US America regions.
VFC's Direct-to-Consumer business grew 8% during the year. Growth in the channel was driven by a low double-digit jump in the International business and a low-teen rise in its Outdoor & Action Sports sales. VFC's E-Commerce business was particularly strong and grew more than 20% during the year.
The company's Wholesale channel, however, continued to grapple with the ongoing channel disruptions in North America.
Article continues below advertisement
Segment performance
VF Corporation's (VFC) Outdoor & Action Sports revenues grew 2% in fiscal 2016 to $7.5 billion. The segment's growth was driven by 6% and 1% increases in the Vans and Timberland businesses, respectively. The North Face brand was, however, down 2% during the year.
Jeanswear revenues fell 2% in fiscal 2016 as a 1% increase in Wrangler sales was offset by a 3% slump in Lee sales.
VFC's Imagewear sales rose 2% while its Sportswear segment revenue was down 16% during the year.
In the next article, we'll look at the company's bottom line in fiscal 2016 and fiscal 4Q16.
Investors who want diversified exposure to VF Corporation can consider the First Trust Rising Dividend Achievers ETF (RDVY), which invests ~1.9% of its portfolio in VFC.