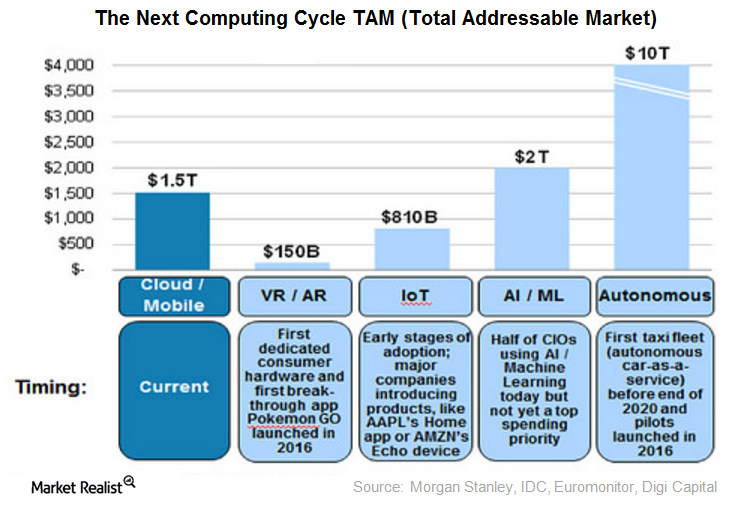 Will Strategic Imperatives Again Rule IBM's 4Q16 Results?
By Anne Shields

Jan. 11 2017, Updated 5:05 p.m. ET
Synergies from IBM's strategic acquisitions in 2017
In the last part of this series, we looked at the market expectations for International Business Machines' (IBM) 4Q16 results. 3Q16 marked the 18th consecutive quarter of no revenue growth for the company.
However, despite a fall in overall revenue and no growth in any of its operating segments, IBM's Strategic Imperatives segment managed to post growth in 3Q16.
In 3Q16, IBM's Strategic Imperatives segment, which refers to the company's investments in cloud, analytics, mobile, social, and security technologies, rose 16.0% to $8.0 billion. In the last 12 months, IBM's Strategic Imperatives businesses have garnered $32.0 billion in revenue, ~40.0% of the company's overall revenue. IBM's cloud services revenue rose 42.0% to $3.4 billion, while its cloud-as-a-service run rate rose 65.0% to reach an annual run rate of $7.5 billion.
In 2016 alone, IBM spent more than $5 billion on acquisitions to boost its strategic imperatives. Market and industry analysts are keeping a close eye on these acquisitions to see whether the company can integrate and harness the synergies expected of it and boost its strategic imperatives in 2017.
Article continues below advertisement
Looking to the next computing cycle
The above chart shows that in the next computing cycle, IBM's total addressable market is expected to encompass ~$13 trillion. SMAC (social, mobile, analytics, and cloud) technologies have engulfed the current IT (information technology) environment. After SMAC, VR (virtual reality), AR (augmented reality), the IoT (Internet of Things), AI (artificial intelligence), machine learning, and autonomous vehicles are the key areas that are expected to drive the $13 trillion in spending expected in the next computing cycle.
Commenting on the investment that's expected to be dominant in 2017, Barron's columnist Tiernan Ray cited Morgan Stanley (MS) hardware analyst Katy Huberty, who said, "Cloud adoption is inflecting higher and we see whitebox maker Quanta, and companies that can move up-the-stack, like IBM, as beneficiaries."
In 2016, the major acquisitions announced by IBM, Microsoft (MSFT), Google (GOOG), and Salesforce.com (CRM) all hovered around at least one of these themes.