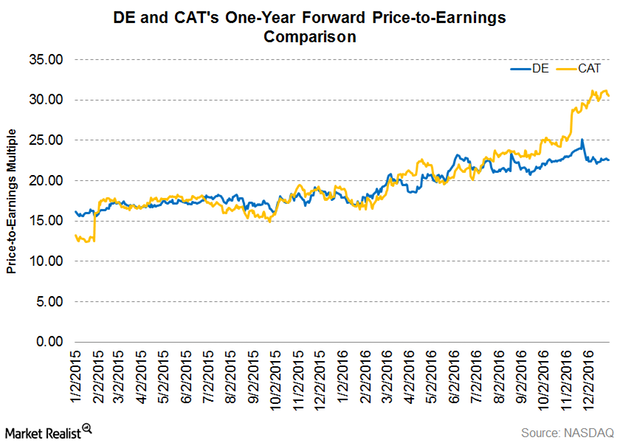 Why Is Deere Trading at a Discount to Caterpillar?
By Peter Neil

Dec. 4 2020, Updated 10:53 a.m. ET
Deere's forward price-to-earnings multiple
In the previous part of this series, we looked at analysts' recommendations for Deere & Company (DE). In this final part of the series, we'll take a close look at DE's valuation and compare it to its peers.
Forward PE (price-to-earnings) is a relative valuation method that considers a company's future earnings for calculation. As of December 30, 2016, DE was trading at a one-year forward PE multiple of 22.6x compared to Caterpillar's (CAT) of 30.6x.
A forward PE ratio tells how much investors are paying for a stock per dollar of expected earnings in the next 12 months. By using a PE ratio, you can compare two or more companies that operate in the same industry and decide which stock is overvalued or undervalued.
Article continues below advertisement
Is Deere undervalued?
Deere's revenue in the past four years has fallen rapidly, from $37.8 billion in fiscal 2013 to $26.6 billion in fiscal 2016. Deere's financial year runs from November 1 through October 31.
DE expects its sales volume to be lower in fiscal 2017. Its net income margin has fallen from 9.4% in fiscal 2013 to 5.7% in fiscal 2016. With low commodity prices and weak farm income, Deere expects a further 1.0% fall in its fiscal 2017 revenue. Revenue growth and margin growth have become a challenge for DE.
Caterpillar is facing similar issues with falling revenue and net income margins. But the revival in base metal prices has revived investors' hopes, and now they're looking for a turnaround in Caterpillar stock. As a result, CAT's valuation improved to its current level.
You can hold DE by investing in the VanEck Vectors Agribusiness ETF (MOO), which has invested 7.1% in DE. The top holdings of the fund include Syngenta (SYT) and Monsanto (MON), with weights of 8.1% and 8.0%, respectively, as of December 30, 2016.