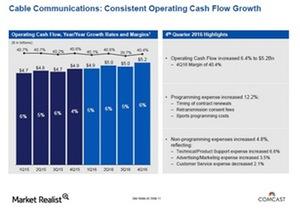 Why Does Comcast Expect Programming Costs to Rise in 2017?
By Shirley Pelts

Updated
Comcast's programming costs
Cable companies such as Comcast (CMCSA) have high content costs. These costs are similar to the fixed costs incurred by media networks such as The Walt Disney Company (DIS) and Viacom (VIAB).
However, as distributors, cable companies have additional infrastructure investments. Content costs account for much of a cable company's operating costs.
In fiscal 2017, Comcast expects its programming costs to be around 13%, mainly driven by programming contract renewals that began in 2H16 and are likely to continue in 1Q17. In its fiscal 4Q16 earnings call, the company reiterated that it expects its programming costs to stabilize beyond 2017. Comcast also expects its Comcast Cable operating margin to "be flat to down 50 basis points" in fiscal 2017.
Article continues below advertisement
At the Wells Fargo Securities 2016 Technology, Media & Telecom Conference, the company pointed out that, as it integrates more services such as Netflix (NFLX) on its X1 set-top box, it reduces its dependency on any one content provider. It added that it was getting a better understanding of the price it pays for its content and the value its customers get by subscribing to its pay-TV service. The company could likely use this insight when negotiating programming contracts with content providers.
Comcast's programming expenses in fiscal 4Q16
In fiscal 4Q16, Comcast's programming expenses rose 12.2% year-over-year, driven by the renewal of programming contracts, higher retransmission consent fees, and rising costs for sports programming. Comcast's non-programming costs rose year-over-year to 4.8% in fiscal 4Q16. The higher costs were mainly a result of the rollout of Comcast's X1 set-top box. In its fiscal 4Q16 earnings call, the company stated that, in fiscal 2017, it expects its non-programming expenses to be lower due to decreased expenses for improving customer experience.