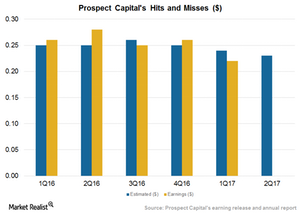 Prospect Capital's Performance to Rise Marginally in 2017
Impact of the interest rate hike
In December 2016, the Fed raised the interest rate to 0.50%–0.75%. It was the second rate hike since the great recession of 2008. The higher interest rate could substantially impact lending businesses and net interest margins.
Asset managers or closed-end funds with lower leverages might see improved margins in 2017. Among closed-end funds, Prospect Capital (PSEC) is seeing a marginally higher leverage and is expected to post EPS (earnings per share) of $0.23 in fiscal 2Q17, which is the December quarter. That compares to $0.28 in the prior year's quarter and $0.22 in the previous quarter.
Prospect Capital missed analysts' estimate of $0.24 in fiscal 1Q17 and posted EPS of $0.22. That reflected lower investment income following the sale of Harbortouch in the previous quarter. Harbortouch contributed $5.1 million in total interest income.
For fiscal 2017, Prospect is expected to post EPS of $0.93. The company's net asset value fell marginally from $9.62 per share on June 30, 2016, to $9.60 per share on September 30, 2016.
The company posted total investment income of $180.0 million in fiscal 1Q17 compared to $200.0 million in fiscal 1Q16.
Here's how some of the company's peers in investment management performed in their latest quarterly earnings:
BlackRock Capital Investment (BKCC): missed estimates
Apollo Investment (AINV): beat estimates
Ares Capital (ARCC): beat estimates
Together, these companies make up 4.3% of the PowerShares Global Listed Private Equity ETF (PSP).
Article continues below advertisement
Closed-end fund
Prospect operates as a financial services company that lends and deploys funds in middle-market and privately held companies. The company functions as a business development company. It provides funds to companies in the form of senior and subordinated debt and equity. Investee companies then deploy capital for growth, development, acquisitions, and divestitures.
In this series, we'll look at Prospect Capital's expected performance, deployments, portfolio strategy, yields, balance sheet strength, dividends, and valuations.
Let's start with Prospect Capital's yields amid a rise in interest rates.