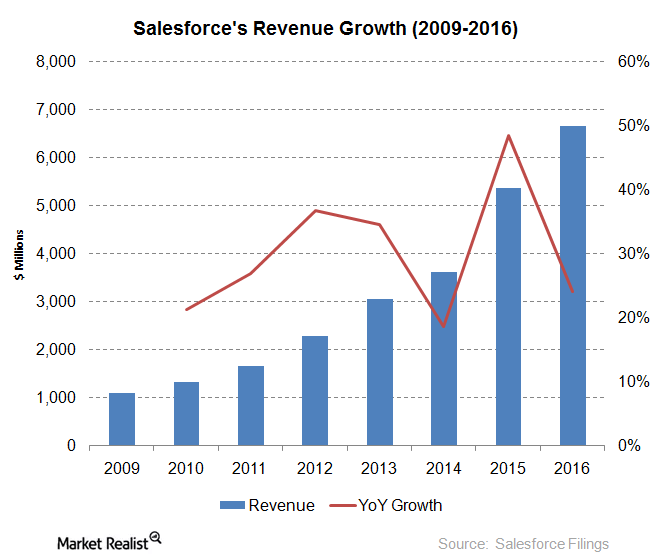 Why Salesforce Has to Be Ambitious in Revenue Growth
The most highly deployed global cloud service
Salesforce (CRM) pioneered SaaS (software-as-a-service), and since its launch, Salesforce has developed an impressive mix of cloud-based offerings that help companies manage their business relationships in the customer lifecycle. SaaS is now expected to be the fastest growing cloud service.
According to Cisco Systems' (CSCO) Global Cloud Index, SaaS (software-as-a-service) workloads are expected to have the largest share. They are expected to grow at a CAGR (compound annual growth rate) of 30% and to have 74% of cloud workloads by 2020.

Article continues below advertisement
Article continues below advertisement
Microsoft and Adobe: SaaS threats
Salesforce lost its leadership position in the SaaS (software-as-a-service) space to Microsoft (MSFT). Citing a field survey conducted by Jefferies Group, the Wall Street Journal recently reported that Microsoft Dynamics 365 is priced lower than Salesforce's comparable offering. Both Salesforce and Microsoft cater to a price sensitive market, and as such, Microsoft Dynamics 365 has the edge over Salesforce.
Gartner expects CRM to become a $36.5 billion market this year. Salesforce leads the CRM (customer relationship management) space with a market share of 19.7%, followed by SAP (SAP), which has a 10.2% market share. Oracle (ORCL), Microsoft, and Adobe (ADBE) were also among the top five players. Among them, Adobe's revenue rose the fastest at 26.9%, while Salesforce and Microsoft reported revenue rises of 21.1% and 20%, respectively.
The recent acquisition announcements by Microsoft and Oracle of LinkedIn (LNKD) and NetSuite, respectively, demonstrate these companies' ambitions to scale up in the CRM space. The high growth expected in CRM is luring other tech players, so while Salesforce leads this space, Adobe's and Microsoft's rapid growth threaten its leadership.