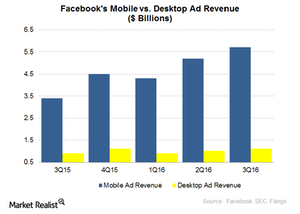 Eyes Are on Instagram as Facebook Reports 4Q16 Earnings
Focus on Instagram monetization
As Facebook (FB) reports its 4Q16 results, all eyes will be on the company's mobile revenue. FB has begun taking steps to monetize its other mobile properties such as Instagram. Facebook recently moved to open its Instagram platform for all advertisers. Before making the move, Facebook only allowed a few brands such as Netflix (NFLX), General Motors (GM), Nike (NKE), and Coca-Cola (KO) to run ads on Instagram.
Article continues below advertisement
By opening Instagram's platform for all advertisers, research firm eMarketer estimates that advertising sales on the platform could reach $3.6 billion by the end of 2017, boosting Facebook's mobile ad sales. The consensus estimate calls for Facebook to post mobile ad revenues of $7.1 billion for 4Q16 and $22.3 billion for 2016.
Improving Instagram's engagement
Not only has Facebook extended the ability to advertise on Instagram to everyone, but the company has also added more features to the app (application) to increase its appeal and boost user engagement. One of the recent feature additions to Instagram is Stories, a service aimed at publishers. Instagram Stories has been fashioned as a rival to Snapchat's Discover platform. More than 150.0 million people use Instagram daily.
In Facebook's upcoming 4Q16 report, investors and analysts will be looking for updates on Instagram's subscriber growth and user engagement. If Facebook has decided to take an advertising approach to monetize the app, these are key metrics that marketers consider to decide where they spend their money.
With Snapchat set to go public this year, pressure is on Facebook to show that Instagram and its other mobile properties can withstand competition from Snapchat.