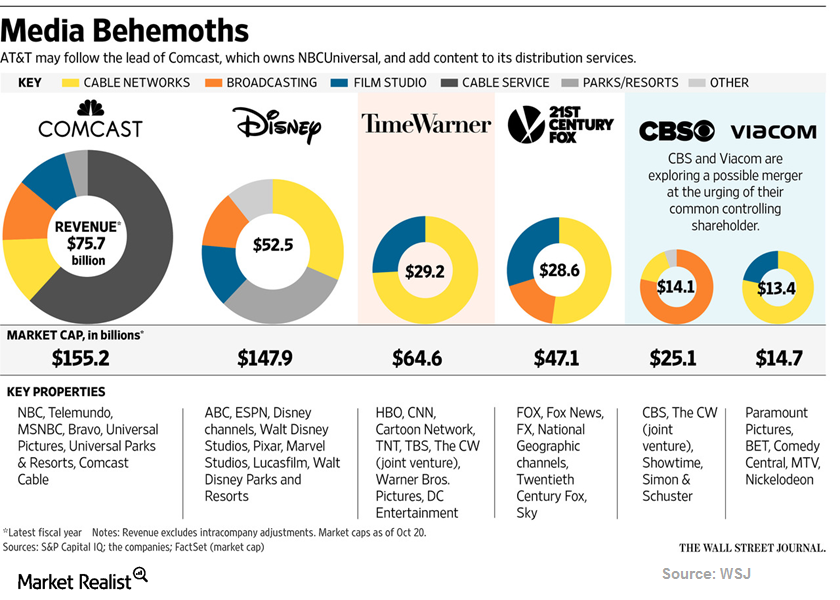 Analyzing the Concentration of US Media Ownership
Media behemoths
Time Warner (TWX) has high-quality content assets, and AT&T (T) has extensive customer relationships across the wireless, video, and fixed broadband platforms. An AT&T–Time Warner deal would create a vertically integrated company with best-in-class assets in terms of content and distribution, which could grow AT&T's long-term earnings.
With AT&T's acquisition of Time Warner likely to close before the end of 2017, let's take a closer look at the valuations of some media behemoths. AT&T could follow the lead of Comcast (CMCSA), the company that owns NBCUniversal.
Article continues below advertisement
AT&T to acquire Time Warner
Earlier in October 2016, AT&T announced that it would acquire Time Warner for $107.50 per share, composed of $53.75 per share in cash and $53.75 per share in AT&T stock. The stock portion is subject to a collar. The purchase price implies a total equity value of $85.4 billion and a total transaction value of $108.7 billion, including Time Warner's net debt. The price represents ~12.0x analysts' estimated adjusted EBITDA (earnings before interest, tax, depreciation, and amortization) for Time Warner in 2017.
The agreed purchase price was at a 36% premium to the pre-takeover news trading price. The cash portion will be financed with cash on hand and new debt, with AT&T receiving an 18-month, $40 billion commitment for an unsecured bridge term facility.
The competition in the wireless and media spaces is growing. For this reason, Verizon (VZ) may look to acquire other assets beyond AOL-Yahoo, while Comcast/Charter (CHTR) could look more closely at a wireless strategy. This could position T-Mobile (TMUS), Sprint (S), and Dish (DISH) as attractive takeover options.