How Does Xilinx Plan to Change the Future of Data Center with FPGAs?
Xilinx believes that FPGAs (field programmable gate arrays) can bring more power savings than GPUs while delivering same computing performance.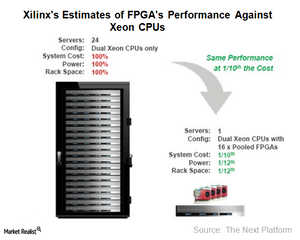 Power-hungry data centers seek energy efficiency solutions 
We are in the middle of a data revolution. With the advent of the connected world, every device around will soon be generating tons of data, and all of it needs to be stored, processed, and analyzed in real time. This has created the need for more data centers and AI (artificial intelligence).
However, data centers suffer from huge power requirements. According to estimates, data centers consume 2% of United States electricity, and this situation will only get worse as more data centers spring up. Xilinx (XLNX) Chief Executive Officer Moshe Gavrielov has suggested that one solution that could bring significant power savings is expected to become a mainstream in data centers by 2020.
Article continues below advertisement
Article continues below advertisement
FPGA: the future of energy efficient data centers
A similar vision was shared by Nvidia (NVDA) five years ago, when it started developing its GPU (graphics processing unit) technology for data centers. It started seeing wide adoption in 2016 as more, and soon after, more data centers started deploying GPUs for their AI needs.
Today, Xilinx has the same vision. It has stated that FPGAs (field programmable gate arrays) can bring more power savings than GPUs while delivering same computing performance.
Xilinx gave an example of the power savings achieved by pooled FPGAs. According to the company's estimates, the computing performance of half a rack of servers with 24 two-socket Xeon machines from Intel (INTC) can be achieved by a single two-socket server with 16 FPGAs from Xilinx, and at one-tenth the cost. The pooled FPGAs would use only one-twelfth of the power and space of the Xeon machines. It's important to note, however, that these figures are just estimates and have not yet been tested in a real environment.
Software slows FPGA adoption
The common and the most challenging problem with any new hardware that offers significant benefits is the software, which is often only compatible with older platforms. FPGAs need to be programmed for a particular task, and software programmers may not be able to program FPGAs efficiently with hardware languages like VHDL and Verilog.
There are some long-term alternatives, however, such as compiling OpenCL code into FPGA implementations, doing custom RTL (register-transfer level) design, model-based design, and high-level synthesis from languages like C and C++. But none of the above solutions would help in the widespread adoption of FPGA.
Continue to the next part of this series for a look at Xilinx's effort to put FPGAs into the data center more efficiently.