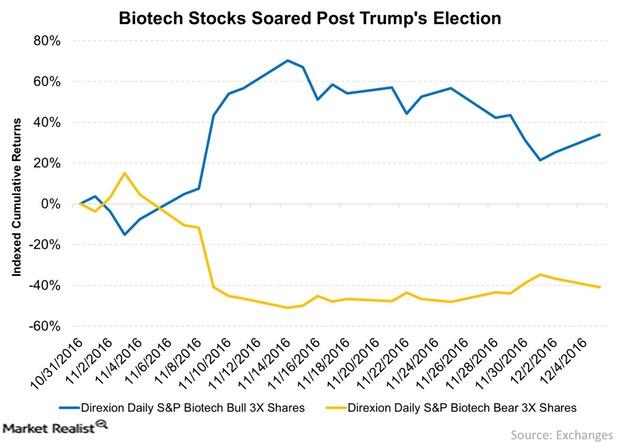 How Will Trump's Take on the ACA Affect Healthcare Stocks?
By Sanmit Amin

Dec. 8 2016, Published 10:35 a.m. ET
Direxion
Affordable Care Act and Drug Pricing
President-elect Trump has promised to repeal the Affordable Care Act in his first days in office. Among other things, an outline announced this summer cites a transformation of Medicaid, including the elimination of federal rules that establish who should be covered such as poor children and pregnant women, and which benefits should be offered, leaving those decisions to the states. But enacting the complex legislation needed to replace the ACA, while protecting those who now depend on it may prove to be a conundrum. A rollback may cause enormous political backlash. Many healthcare stocks fell amid worries of a potential repeal of the law.
Article continues below advertisement
Over the past few months, recent overtures by Hillary Clinton toward price controls in pharmaceuticals and biotech, have been headwinds for that sector. In the days after the election, healthcare and biotech stocks shot through the roof as drug-pricing pressures were relieved. Markets think that a Trump presidency puts to rest the  potential for severe pricing regulations on drugs, initially sparked by Retrophin CEO Martin Shkreli, when he announced he was raising the price of a drug from $13.50 to $750/pill. The likelihood of new legislation controlling the pricing of drugs and healthcare services is severely decreased. US-based investment bank Jefferies said on 11/9/16: "Sentiment towards the Healthcare sector ought to swing initially away from draconian fears over drug pricing."
As political pressure is removed, healthcare is a growth industry driven by demand from an aging world population. As we've noted before, it's also an important export industry, giving emerging markets access to modern-day medicine and modern medical technology. Health care demand is fairly insensitive to economic cycles and other macro factors, like the price of oil and the outlook for short-term interest-rate moves. This secular demand coupled with innovation provide a great environment to find companies that can compound earnings over time. So this may be a sector with room to run.
Market Realist
How will Trump's take on ACA affect healthcare stocks?
Donald Trump wants to repeal the Affordable Care Act (or ACA) and replace it with a new act that encourages free-market competition. Repealing the ACA would eliminate the need for every person to purchase healthcare coverage. Trump wants to allow healthy competition among health insurance companies.
Trump proposes controlling drug prices naturally through free-market competition. He wants to facilitate easy access into markets for drug makers by removing entry barriers.
However, Trump has also suggested that companies be held accountable if there are sharp rises in prices. He's also proposed the allowance of easy access to cheaper imported drugs.
The graph above shows the performances of the Direxion Daily S&P Biotech Bull 3X ETF (LABU) and the Direxion Daily S&P Biotech Bear 3X ETF (LABD). The former has soared 34%, while the latter has plunged 40% since Trump's election.