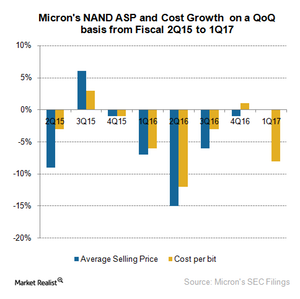 Is Supply Shortage in the NAND Market Good for Micron?
Micron's revenue from NAND
Micron Technology (MU) is witnessing strong growth in the DRAM (dynamic random access memory) space. The company is also seeing a strong demand in the NAND (negative-AND) space as the industry's transition to 3D (three-dimensional) NAND creates a supply shortage.
Micron's NAND revenue rose 26.0% sequentially to $1.3 billion in fiscal 1Q17 as the NAND sales volume rose 26.0%. Gross margin for NAND rose from 17.0% in fiscal 4Q16 to 23.0% in fiscal 1Q17 as the cost of NAND fell 8.0% and prices remained unchanged. Micron expects NAND's gross margins to rise 7.0 percentage points in fiscal 2017.
Article continues below advertisement
Article continues below advertisement
Micron's NAND product mix
Product mix plays a key role in the NAND space since pricing differs from product to product. In fiscal 1Q17, Micron earned 40.0% of its NAND revenue from memory cards, USB, and components, 21.0%–23.0% from mobile, 14.0%–17.0% from SSDs (solid state drives), and around 20.0% from automotive, industrial, multi-market, and embedded.
In 2017, NAND sales are expected to be driven by a strong demand for storage and mobile solutions.
Micron's efforts in the NAND space
Micron's 3D NAND Generation 1 output crossed 2D (two-dimensional) NAND output in fiscal 1Q17. The company will now start production of Generation 2 64 layer 3D NAND and achieve volume output in the second half of fiscal 2017. With this transition, the company expects to reduce NAND cost 20.0%–25.0% in fiscal 2017, including the cost of expanding SSD, EMCP (embedded multi-chip package), and managed NAND solutions. Samsung (SSNLF) and SK Hynix are also ramping up production of 3D NAND.
Micron is looking to make a comeback in the SSD space with its 3D NAND technology after its SSD market share fell from 7.1% in 1Q15 to 3.9% in 2Q16, according to TrendFocus.
Micron developed 3D XPoint technology in collaboration with Intel (INTC) and aims to ship the first QuantX product based on this technology in 2017.
NAND market outlook 
Micron expects the NAND industry's supply to rise 38.0%–42.0% in 2017 as the transition to 3D brings technological challenges for manufacturers. On the demand front, Micron expects NAND demand to rise 40.0%–45.0% in the long term as the use of NAND increases in all the fast-growing markets of IoT (Internet of Things), SSD, and automotive computing.
In the slow markets of smartphones and PCs (personal computers), NAND content per device is increasing. So demand is outstripping supply, which is likely to create a shortage of 2.0% in 2017, according to DRAMeXchange.
Next, we'll look at the end markets that are driving Micron's earnings.