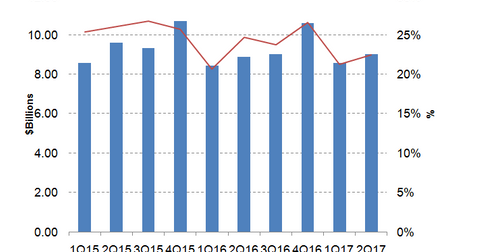 How Do SaaS and PaaS Affect Oracle's Net Margins?
By Anne Shields

Updated
Oracle's deferred revenues
Oracle's (ORCL) recently announced fiscal 2Q17 results indicate that like its enterprise software peer IBM (IBM), the company is finding it challenging to see revenue growth. Oracle is still in a transitional phase, shifting its operations from license sales to subscriptions.
In the cloud business, rather than booking revenues when a sale is made, revenues are recorded over the course of a contract. Revenues are thus recognized only as the software service is delivered. This lag time leads to deferred revenues on balance sheets.
Deferred revenue refers to billings to customers for subscription fees. Deferred revenue is one way to gauge a company's future subscription revenue. Oracle's deferred revenues grew 6% to$7.4 billion. In constant currency terms, this growth was 8%.
Article continues below advertisement
Factors impacting Oracle's net margins
Oracle's better-than-expected SaaS (software-as-a-service) and PaaS (platform-as-a-service) revenues generate hope, as SaaS revenues are usually more predictable than licensing deals. This predictability explains why SaaS revenues are increasingly preferred by software companies.
Oracle posted strong growth in its cloud revenues and in its margins. In fiscal 2Q17, the gross margin for SaaS and PaaS stood at 61%, compared to 43% in 2Q16. Oracle expects to see further improvements in its cloud margins in the coming quarters and expects 80% cloud margins in the future.
As the chart above shows, Oracle's net margins improved in fiscal 2Q17 on the back of improvement in its SaaS and PaaS margins. Defending its IaaS gross margins of 37%, Oracle stated that it is "making the necessary investments to scale out this business."
Oracle's IaaS business is in an expansion mode as its expenses are incurred upfront. Its revenues are recognized only as the software service is delivered. The timing of revenue and expenses are misaligned in the cloud business, which impacts its margins and cash flows.
This mistiming of cash flows leads to the late realization of profits. Apart from the mistiming of cash flows, the task of building data centers to provide cloud services also puts pressure on the margins. This is likely to be the case with Oracle's IaaS.
Moreover, Oracle's spending on research and development continues to rise. In fiscal 2Q17, it spent ~$3.0 billion on R&D, which corresponds to 17% of its overall revenues. Given Oracle's focus on increased R&D expenditures, the company's margins could suffer in the short term. However, Oracle and its offerings could benefit in the long run.