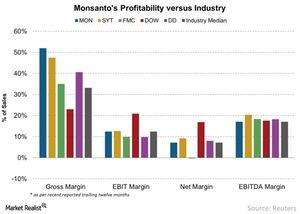 How Monsanto's Profitability Compares to Its Peers'
By Adam Jones

Dec. 30 2016, Updated 1:28 p.m. ET
Comparing with peers
In the previous part of this series, we discussed how Monsanto (MON) has performed in terms of its gross and operating margins. A discussion on margins is incomplete without looking at where a company's industry peers stand in comparison. Bear in mind that these aren't perfect comparisons, which are always a challenge to find.
Article continues below advertisement
Margin comparison
Monsanto's gross margin stands at at 52% for 2016, higher than the industry median of 33%, according to data collected by Thomson Reuters. During a comparable period, Syngenta (SYT), DuPont (DD), and FMC (FMC) commanded higher gross margins of 48%, 41%, and 35%, respectively, compared to the industry median. Dow Chemical (DOW) was the only company with a gross margin lower than the industry median, at 23%.
Let's look at some other profitability ratios as well. Monsanto's EBIT (earnings before interest and tax) margin stood at 12%, matching the industry median of 12%. FMC and DuPont both had EBIT margins of 10%. Syngenta's and Dow's EBIT margins stood at 13% and 21%, respectively.
Monsanto's net margin and EBITDA (earnings before interest, tax, depreciation, and amortization) margin were also in line with the industry (MOO) median at 7% and 17%, respectively. While Dow has the highest net margin at 17%, Syngenta has the highest EBITDA margin at 20%.
Usually, higher margins mean more left over for equity investors, boosting returns. Next, let's compare Monsanto's returns with those of its peers.