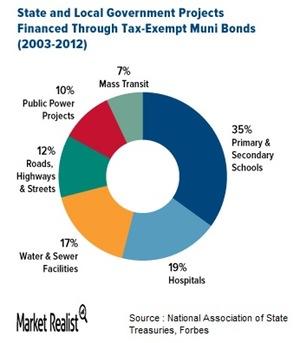 Increased Muni Issues to Fund Infrastructure Spending
VanEck
Increased Domestic Infrastructure Spending
Another important factor to consider is Trump's plan for massive infrastructure spending on new hospitals, roads, airports, railroads, schools, and more, to the tune of $500 billion and up. If such a large spending bill comes to pass, it could mean elevated supply coming online in the muni bond market, as most of these projects typically find financing in the municipal marketplace.
Article continues below advertisement
When viewed in the context of proposed across-the-board tax reforms, the potentially huge outlay on infrastructure has led some to speculate that the federal government may end or limit the tax exemption on municipal bonds. Though such a move is technically possible, it is highly improbable. An elimination of the municipal bond tax exemption would likely lead investors to demand higher yields on muni bonds, increasing government borrowing costs.
Market Realist
Trump's infrastructure spending could add to muni supply
Municipal bonds (SMB) (SHM) have financed countless public works projects—from schools to hospitals, roads to bridges, airports to seaports, and sewers to water treatment plants. According to Forbes, more than three-quarters of all national infrastructure has been built and maintained using muni (municipal) bonds, which investors have been attracted to for their tax-free income. As you can see in the above graph, most state and local projects have been financed with muni issues.
The downfall for muni bonds (HYD) (ITM) (MLN) began in October 2016 after the muni market was flooded with new issues for state and local governments. According to Thomson Reuters data, the total muni bonds issued hit a record $52.5 billion in October. That figure, coupled with president-elect Donald Trump's infrastructure plans and proposed tax exemption, drove all muni yields higher in the following months. This could hamper new muni issues coming out in 2017.
It currently seems unlikely that the Trump administration will be in favor of lifting the exemption, since that could add to borrowing costs.
In the next part, we'll analyze the aftermath of the muni sell-off and whether there's an opportunity to enter it.